Link up every Friday!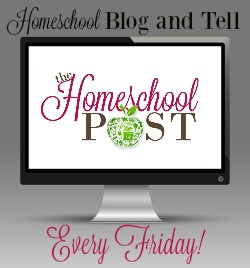 Beginning in 2017, the Homeschool Blog and Tell is now a weekly linkup! Share your favorite homeschool posts with us every Friday. There is no particular theme to follow, just share your homeschool blog posts.
Join the current Homeschool Blog and Tell linkup here.

2016 Homeschool Blog and Tell Links
January ~ Organization, Scheduling, Goal Setting
February ~ Relationships
March ~ Learning Styles
April ~ Special Needs
May ~ Homeschooling while Working
June ~ Homeschooling Year-round
July & August ~ HSBAT is taking a summer break, but will return in September!
September ~ Homeschooling for Free
October ~ Math
November ~ Homeschooling and the Holidays
December ~ Homeschooling and Life Skills
2015 Homeschool Blog and Tell Links
March ~ Spring, Homeschool Methods, or freestyle
April ~ Poetry in your homeschool
May ~ Field Trips
June ~ Homeschool Celebrations
July ~ Homeschool Organization
August ~ Advice for New Homeschoolers
September ~ Homeschool Spaces
October ~ Educational Games
November ~ Getting through a Homeschool Rut
December ~ Fine Arts
2014 Homeschool Blog and Tell Links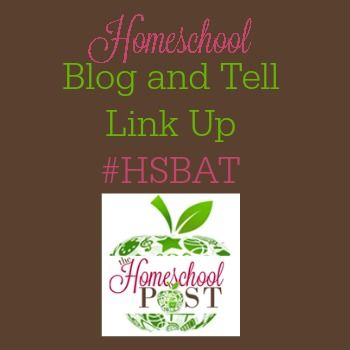 January 17th- Show us how you Refresh and Refuel!
February 14th-  Show us your Relationships!
March 14th- Show us your Conventions!
April 18th- Show us your Character!
May 16th- Show us how you teach good stewardship
June 20th- Show us your staycation
July 18th-  Show us your Water Play!
August 15th- Show us your Stuff!
September 19th- Show us YOUR Favorite Homeschool Things!
October 17th- Show us how you Experience History!
November 21st-  Show us your Homeschool Blogging tips & tricks!
December 19th- Show us how you celebrate Christmas in your homeschool!
___________________________________________________________________________
2013 Homeschool Blog and Tell Links
January – Show us your ARTWORK!
February – Show us something RED!
March – Show us something GREEN or 17 things growing
April – Show us your RAINY DAY Activity
May – Show us some FLOWERS in your zone
June – Show us your Summer Plans
July – Show us something RED, WHITE and BLUE
August – Show us something HOT
September – Show us your 1st Day of School
October – Show us something ORANGE
November – Show us something for which you Thankful
December – Show us how you are giving to others