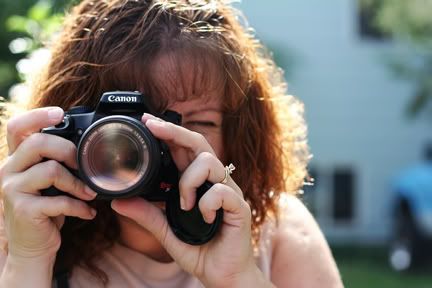 This is where you'll find me quite often – behind the lens of one of my cameras. Though an amateur (although I'm in the process of turning it into an actual business), I take an insane amount of pictures, an obsession a habit that increased exponentially with the purchase of my first digital camera five years ago.
No, I'm not always behind the lens. I do have a real face sans camera. And, amazingly, sans sunglasses. And sans curls.
In addition to the photography addiction, I love to read and scrapbook. Sometimes I just read about scrapbooking. I'm also big into word games. Mom and I are Scrabble junkies, squeezing in games whenever possible. Sometimes at her house, sometimes mine, and sometimes Taco Bell.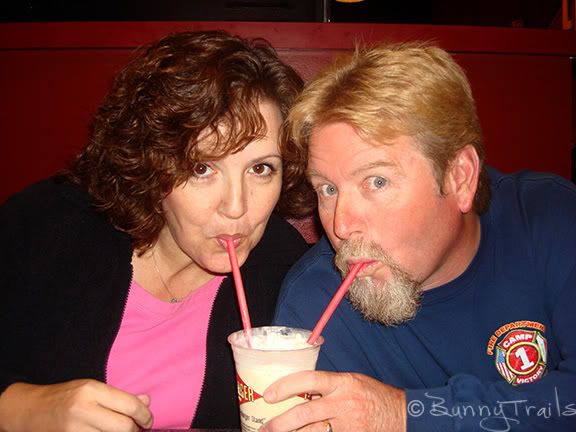 I've been very happily married to my one true BFF for over 25 years. While the storms have blown in our lives throughout the years, our relationship has remained steadfast. I am ever grateful for our marriage. We have two sweet boys, Clay Guy (18) and the Comedian (16). While hubs & I weren't following the Lord when we got married, God got a hold of us prior to having children. Hallelujah! I cannot imagine trying to raise them any other way.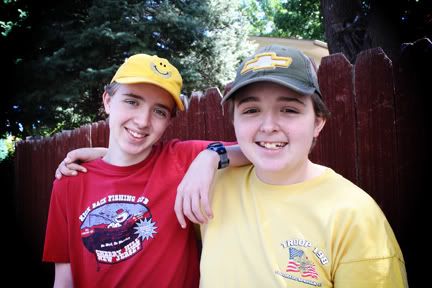 The Comedian & Clay Guy
Our homeschooling journey began a bit later than many. Both boys went to our neighborhood public elementary school, two blocks from home. It was a sweet, small school and everyone really knew everybody. When it was time for middle school, we knew there was no way we wanted them to continue in public school. Originally, we thought they'd be heading to a private Christian school. As we started doing the math, we quickly realized that our budget and the school's tuition were never going to become friends, not even acquaintances. That started us down a somewhat convoluted path (bunny trail) towards homeschool.
We pulled Clay Guy out at 6th grade, leaving the Comedian to finish out 5th grade at the public school. I was grateful because it gave me just ONE kid to work with while trying to get my feet wet that first year. The next year, the Comedian stayed home with us, causing me to get wet all the way to my hips. We just started our third year of homeschooling, so I'm expecting to bring out the full-blown wetsuit. It seems that by the end of one year (sometimes week or day), I sort of think I have it together and it all unravels the next (year, week, day). I guess that's just the way it is with kids and homeschool. They grow and change, making it a constantly moving project. But I wouldn't trade it for anything. I'm blessed and honored to have this opportunity.
I've been a part of the blogosphere for over five years, courtesy of our dear Sprittibee. Feel free to check out my blog, although you'll find that I don't blog much about homeschool. You will find a little of most everything there, befitting the name, Bunny Trails. That's how my life seems to work – from one bunny trail to another to another, until I'm not exactly sure how I ended out at my destination. The one thing I do know is that God always keeps track of me (God's Positioning System). He knows exactly which trail I'm on and never leaves me there alone. My part is to be still, listen for His direction, and obey.
"Your ears shall hear a word behind you, saying, 'This is the way, walk in it,' whenever you turn to the right hand or whenever you turn to the left." Isaiah 30:21