I know. I know. As homeschoolers in the 21st century, we have many, many tools that the pioneers of the homeschooling movement didn't have. I have friends my age who were homeschooled as kids, and they can recall having to only use books that they could get from the library or persuade a public school to let them use because no curricula companies sold to homeschoolers. We're a long, long way from that today.
Today we can find curricula from hundreds of different vendors, as well as any other schooling supplies we could possibly want. The problem isn't having too few resources, it's having too many choices. After more than fourteen years of homeschooling, I've come to identify those things that I feel as if I just couldn't homeschool without. I'm sharing them here, counting down from five to one in order of importance.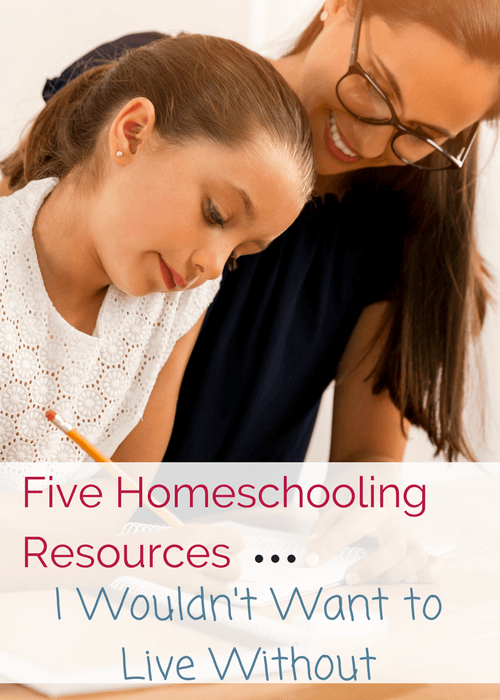 This post contains affiliate links that benefit me if you purchase.
Favorite Homeschooling Resources
#5-The Library
I've talked to homeschool moms who live in other places, and I've realized that all libraries aren't created equal when it comes to helping homeschoolers or actually having the books that are needed. But our library is awesome.
We have a youth librarian who is very supportive of homeschoolers. She's always available to help look up a resource. And she's done a great job of planning homeschool-friendly youth activities. We also have a pretty great interlibrary loan program. When I'm looking for a specific book, I can usually find and request it from any of the libraries in the system. I'm sure I've saved tons of money over the years by finding books at the library instead of buying them.
#4-Binders. Lots of Binders
I like for the kids to keep a binder for each subject each school year. Our binders hold all of their notebooking pages, as well as other assignments or tests that have been completed throughout the year. Each year I file and save these binders. If I ever needed to look back over what we had done over the year, those binders are there.
Another use for binders in our homeschool is to hold digital curricula that I've printed. As I'll mention later, digital curricula is plentifully available online and is often inexpensive or free. I use binders to hold all of these lovely digital resources after I've printed them.
#3-Google Drive
I'm a homeschool planner addict. I confess it. If there's a homeschool planner out there, I've probably tried it at one time or another. The problem is that with every planner, I find a few things that just don't work for me. I find myself thinking, "If I could just tweak that…" And so, after years of trying to make a variety of planners work, I developed my own system using Google Drive.
Google Drive- if you've never used it- is Google's online version of an office suite of programs- word processing, spreadsheets, slide presentations, and more. I love it because it's online, and I can access it from any computer, anywhere. Google Drive is very easy to learn how to use, and sheets, slideshows, forms, and documents created with it can be downloaded as PDFs or as compatible with other similar productivity programs.
I've used the spreadsheet feature of Google Drive to create my own lesson planner that includes quarterly planning and weekly planning, as well as a way to keep up with attendance and grades and plan next year's curricula. This method has been so effective for me that I wrote an ebook about it- Creating Homeschool Lesson Plans That Work– and included access to my Google Drive planner as part of the book.
#2-A Durable Printer
Remember all those digital resources I mentioned? In order to print them, I rely on a durable printer. I need a printer that is cost-effective in how much ink it uses, as well as durable, because I'm pretty hard on my printer. It's used very frequently. The printer I'm currently using and loving is an Epson. It works well with my computer- which is a Mac- and it typically does well with the amount of ink used. The ink cartridges for it are also less expensive than for my previous printer- and I'm always up for less expensive.
#1-An Awesome Computer
I've often told other homeschooling moms that I think you could homeschool for only the cost of a good computer and good printer if you were diligent in seeking out all of the free digital and online resources available. I use my computer for our homeschooling every single day- many, many times a day.
I use it for lesson planning, for record keeping, for looking up videos that go along with a lesson we're doing, for looking up word definitions, for googling the never-ending questions kids seem to have about how things work, for online classes the kids are taking, for teaching online classes, for looking up practice worksheets for a math or language arts concept one of the kids is struggling with, to find fun activities that coordinate with the current season or holiday, …the list could probably go on indefinitely.
The computer I'm currently using and loving is a MacBook Air. I resisted a long time before buying a Mac. I was always a Windows person. But I took the leap this time and went for the Mac. And I have to say that I love it. Whatever computer you're most comfortable with, make sure that you can download and store files and play streaming video. I think those are probably the two most important things when you're looking for a great computer for homeschooling.
These five things are resources I really wouldn't want to have to homeschool without. As the homeschool pioneers proved, we can do without many things. But, as a 21st century homeschooler, I'm very thankful that I have these five resources.
What are your must-have homeschooling resources?
~Leah