History is one of those subjects that your kids can ending up loving… or hating. When I was in school, I fell in love with history, although I never loved the often dry and boring history textbooks. Now that I'm homeschooling, I've fallen in love with learning history all over again. And I'm beginning to discover that there are other ways to learn history, often more interesting ways.
If you're looking for some ways to make history more interesting, to hopefully spark a love for the subject in your own children, try teaching history without a textbook. I'm sharing four of the ways I've found to do that in our homeschool. In the early years, some of these ideas can be used without a textbook entirely. In the upper grades, I've often used a history textbook as a spine, reading some portions of it and then supplementing with these ideas. Try a few of these and encourage a love of history in your kids.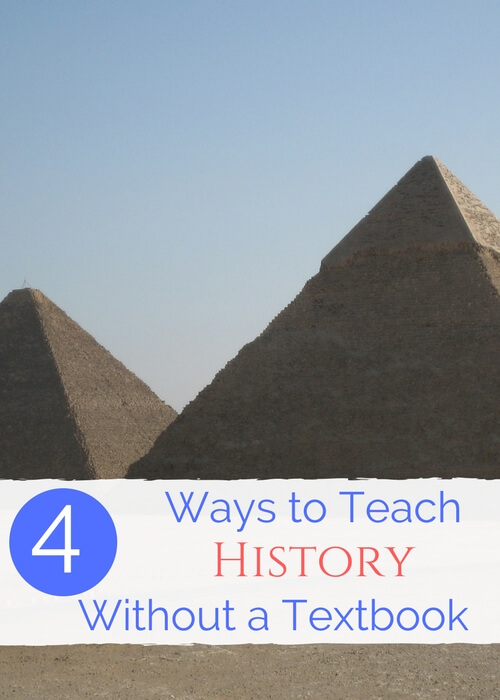 Read great books
Reading a historical fiction book can be much more interesting than reading a history textbook. But with a great historical fiction book, you can learn so much about history. Some of the best discussions about historical time periods that have happened in our homeschool have come about when reading historical fiction.
Look for good living books that actually reveal information about the time period, not just stories that are supposedly set in a time period but have a plot that could really have taken place anywhere without any mention of historical information. G.A. Henty is a classic author of many, many great historical fiction books for kids. You can find a chronological list of his books here. One great thing about his books is that you can find many on audio book as well so that you and the kids can listen to them. If you're looking for historical fiction about American history, the Our America series from Susan Kilbride is one we've loved.
Historical fiction isn't the only way to read your way through history. Another great way to do this is to read biographies of historical figures. Biographies are so good to read because they give opportunity for you to discuss the lives of people. What kinds of choices did these people make? How did those choices affect them and the people around them? We love the YWAM biographies. YWAM has a host of children's biographies about missionaries as well as famous historical figures. Both of these types of biography can be great for learning about the historical time period as well as the life of the character in the biography.
Take field trips
We are fortunate enough to live near a living history farm. Occasionally throughout the year, the farm will host days where reenactors will be at the farm carrying out life as it was lived in different time periods at the farm. Often there are interactive exhibits for kids as well and places where visitors can ask questions about life in the time period. Visiting the farm is a great way to learn about the historical period because kids are seeing history happen right before their eyes.
Look up historical sites near you or sites you may pass on your next vacation. This site has some popular US historical sites listed by state. Seeing the places where history actually happened makes it much more real than simply reading about a historical event in a book.
Listen to podcasts
Some time ago I discovered the joy of podcasts. They're great because you can listen to them at home or on the go. And you can listen to them as they are produced or find the archives and listen anytime. For a while I just enjoyed listening to podcasts for myself. But then I discovered that they actually have some great educational purposes as well.
There are some educational podcasts aimed primarily at kids and others intended for a wider audience, but appropriate for kids. Podcasts are often funny and engaging and can really get kids excited about history. This site has a large list of history themed podcasts. There aren't all for kids, so you probably need to screen them and see what's appropriate. Two that I know are kid-friendly are History According to Bob and Stuff You Missed in History Class. Although Stuff You Missed in History Class isn't produced particularly for kids, they do a great job of keeping episodes family friendly. And if an episode is going to have anything that is potentially inappropriate, they give a warning at the beginning of the show.
Do hands-on projects
If you have an active, hands-on learner, the best way to get them interested in history is to give them hands-on ways to experience. Here are just a few of the ways we've made history hands-on in our house.
Write and perform a play based on a historical event you've just read about.
Have kids make a craft from a historical time period you've been studying.
Let kids look for pictures and create a collage illustrating a historical place or event.
Play charades, having kids act out the part of different historical characters.
When you're studying a particular historical people group- such as the Romans or the Greeks- have kids put on a special meal with historically based foods and entertainment.
Getting kids hands-on with history can often stir their interest in the subject more than a dry and dusty textbook.
Want your kids to love history? Try some of these ideas to teach history outside of a textbook. Who knows? Maybe you'll really develop a love for history also.
~Leah