Have you ever attended a homeschool convention? If so, you know it takes planning ahead, usually some travel, and expenses. Would you like to avoid those obstacles, but still enjoy the benefits of attending a homeschool convention — right from your own home? You can with the 2017 Digital Homeschool Convention!
I'm honored to be a featured speaker at this year's Digital Homeschool Convention. Last year I spoke about Delight-Directed Homeschooling: 7 Ways to Make it Work in Your Homeschool and this year I'm expanding on that theme with Essential Elements of a Delight-Directed Homeschool.
What is the Digital Homeschool Convention?
The Digital Homeschool Convention is a online homeschool convention consisting of 20 pre-recorded speaking sessions. These speaking sessions cover a variety of topics that homeschool moms might have questions or concerns about.
The topics range from home education related matters like:
Teaching Math and Literacy

Time Management/Productivity

Eliminating Overwhelm

Working and Homeschooling

College Admissions

And so much more!
Did I already attend this last year?
If you attended last year, you'll be glad to know that the sessions are all new!
How much does this cost?
Nothing! Between July 3rd and July 9th all sessions are available for free for a limited time. You are able to view each session for a total of 3 days, then on the third day the session is no longer available.
Don't worry though, you still have the opportunity to purchase all the sessions after they are no longer available, if you choose to do so.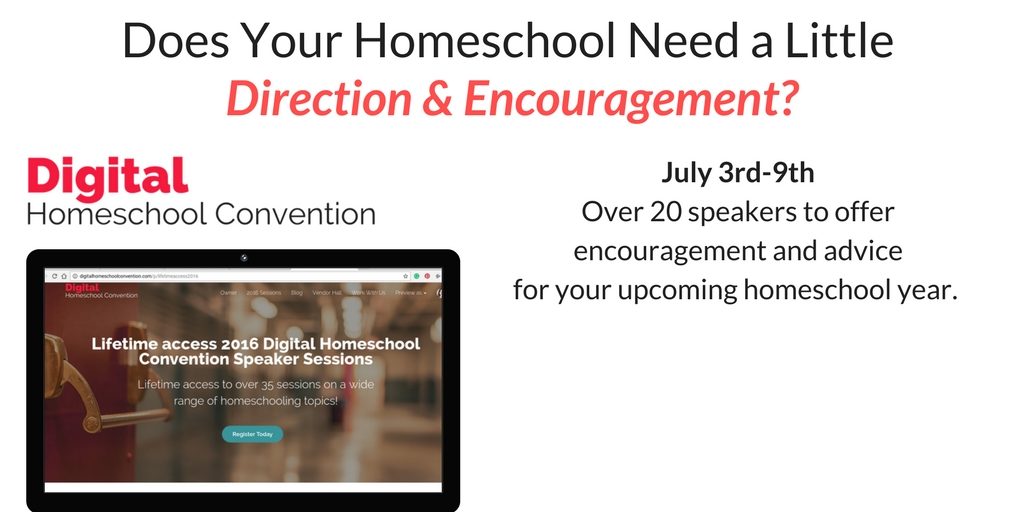 This seems too good to be true!
This is an incredible deal, the value is amazing. Why is this event free? The owner and founder of the Digital Homeschool Convention, Holly Chubb, was once a scared, new homeschool mom just like many of us once were. She wanted to attend a homeschool convention but could not afford the admission and travel — so she decided to bring a homeschool convention to all the homeschool families like her! The families with no local convention, no room in the budget — all the families who just can't make it work.
How do I sign up?
Go to Digital Homeschool Convention and click on the "Register Today" button. Once you enter your information you are ready to watch. The first video will be ready at 7 am on July 3rd EST.
Do I have to watch at a certain time?
No, you are able to log in and watch each speaking session during the times that suit your schedule best. Holly knows how busy being a homeschool family can be. As long as the sessions are live you can view them at your convenience any place you have internet connection!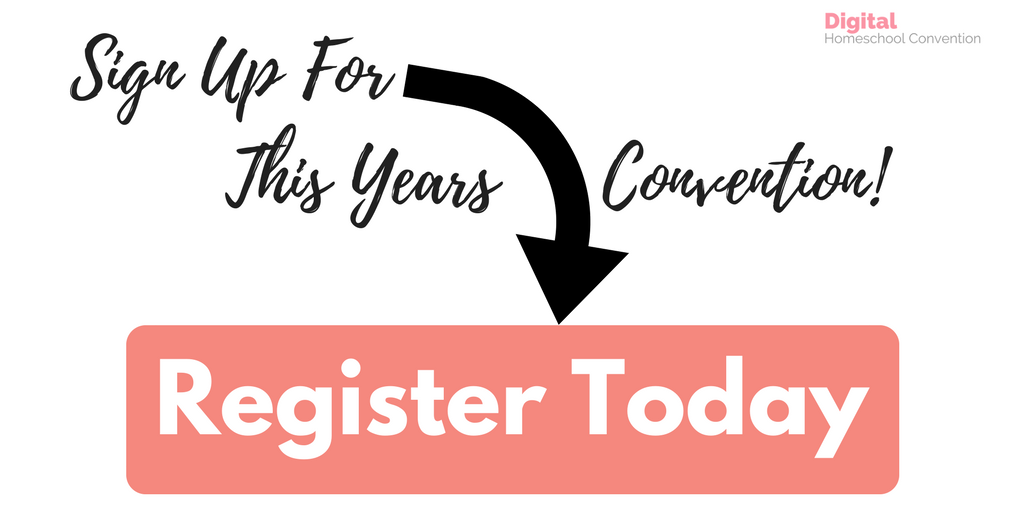 Don't miss it!
~Sara