Around this time every year, I hear a lot of questions from my friends and family (and sometimes complete strangers in the grocery store) about homeschooling. Many are thinking about it for the first time due to problems with their current public school situation. Maybe their kids are falling behind or being bullied or some other variation of "This just isn't working. What can we do?" So many feel helpless and don't think they could do this whole homeschooling thing. After all, it's a big commitment, right?
Right.
But so is parenting in general. And marriage. And anything in life worth doing. We don't get to choose the easy way or avoid facing responsibility just because it gets hard.
Maybe you're on the fence about homeschooling and you're weighing the pros and cons. Maybe you're doubting if homeschooling was the right decision in the first place. Well, no one can make that decision but you. However, I can share my own honest experience. Because homeschooling is awesome, but it's also hard.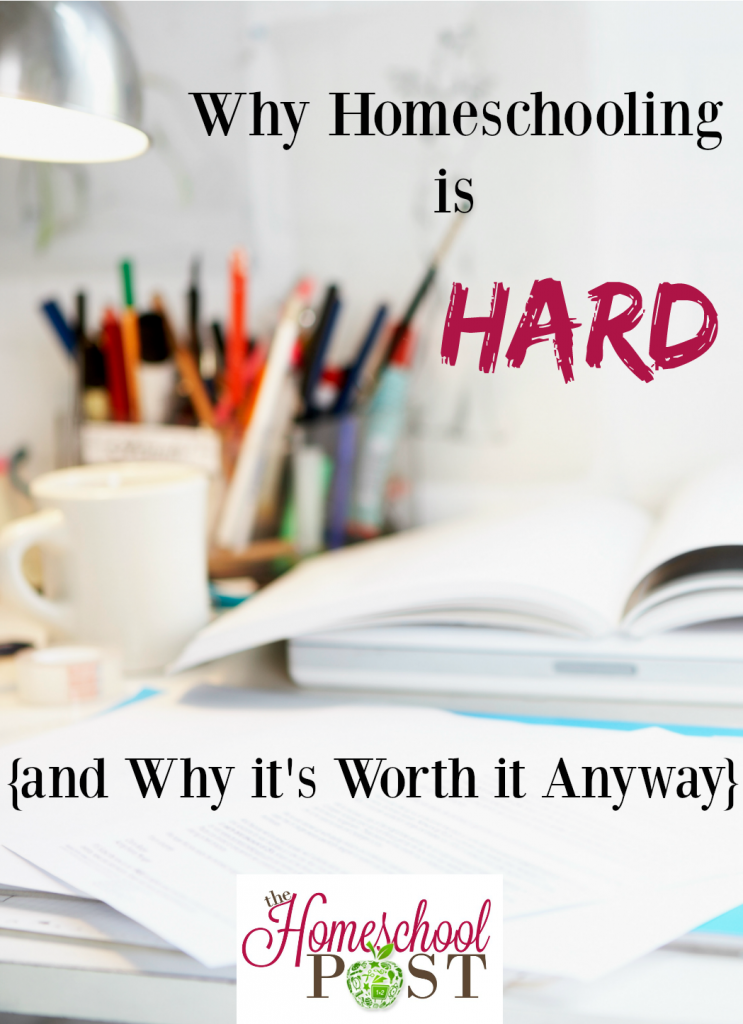 5 Reasons Why Homeschooling is Hard
Homeschool moms (or dads if they're involved) never get a break.

As much as I love my children and being with them, one of the most difficult aspects of homeschooling is never getting a break. We are together from breakfast to bedtime as I switch hats from mom to teacher to cab driver to maid back to mom and so on. There are days I daydream about spending 7-8 blissful hours by myself in a neat and tidy home that hasn't been taken over by projects and school supplies. However, as soon as one of my daughters hugs me and tells me they love homeschooling and I'm the best teacher and best mom, that daydream fades away.
Fear of missing something.

There is always that little niggling fear in the back of my head — even after several years of doing the homeschool thing — that I am going to forget to teach my child something important, something they need to know in life.
Your home becomes a school.

Because even if you don't have a dedicated schoolroom you will need an area to keep books, supplies, games, etc., and it can easily become overwhelming. It's a challenge to keep organized and also to limit purchases. There are never enough bookshelves for us! You might also lose your kitchen table somewhere under the science experiments and art projects.

Being a non-conformist and a pioneer.

This can be a drawback or a blessing, depending on how you look at it. You might be the only homeschooler in your family, as we are. You might have family members who are openly hostile to homeschooling. You'll probably have to deal with homeschool criticism and questions from someone at some point in your homeschool career — whether it's from within your family or from total strangers who think they have the right to make comments.

Budgeting for curriculum and educational expenses.

As homeschoolers, we're on our own to buy curriculum, supplies, computers, equipment, or anything we need to accomplish our educational goals. Even though our tax money still goes to the local school district, we don't benefit from it. Although it's possible to homeschool frugally, there are necessary expenses involved.
5 Reasons Why Homeschooling is Worth it
Family time.

From the simple moments at home together to being able to vacation year-round on your schedule rather than the school's. I know that my daughters' relationships with each other are stronger because of homeschooling, too. I wouldn't trade this one benefit of family time for anything else!

The lightbulb moments.

There is nothing quite so satisfying as your child's excitement because they just learned to read and finished their first book in your lap. Or the joy in the child who looks up at you with pride because they just figured out fractions. I am so grateful that I get these moments instead of some stranger.

Customize school to each child.

In public school it is generally expected that every child learn the same way, with the same material, in the same setting, and there is very little room for self-expression or time to catch up when they are behind. At home they are never really behind — they're on their own learning timetable! Plus you can teach to their learning style and choose whatever method works best.

More time to develop passions.

Like the last benefit, you can follow interests in in your own time. If your child is passionate about nature study, you can spend hours outdoors. If art is their thing, you can visit museums or try out dozens of art mediums without the ringing of a bell or time constraints. It also allows time to develop entrepreneurial pursuits if that's an interest.

Real life experiences.

I am not saying that children who are not homeschooled don't get these opportunities. It's possible, but not as frequently or intentionally as we can be as homeschoolers. If you live on a farm and one of your animals is giving birth, a homeschooled child can be home to see it. If Dad is building a shed in the backyard, your child has a great real life opportunity to use tools and learn about measurements and reading plans. This goes for the everyday things like baking and cooking, to things like staying up later to see a meteor shower or lunar eclipse because you don't have to worry about getting up early to go to school. Homeschooling makes it easier to take advantage of real life learning opportunities at any time.
I'm going to be honest and admit that it was hard for me to think of the reasons why homeschooling is hard. Not because those reasons aren't legitimate, but just because I've come to a place of peace and acceptance with our decision and it's just a part of life for me now. I can't imagine it any other way!
What would you add to this list?
~Sara