Over the years I've been homeschooling- almost fourteen now- I've often heard the concern of homeschooling moms who don't feel as if they're doing a good job covering science with their young children. The most common reasons I've heard are: they can't find time to fit it in, they don't feel as if they're good at science themselves, or they can't find a curriculum that really works with their kids. But teaching science doesn't need to stress out homeschooling moms.
Science doesn't need to be a formal class for young children. You don't need to spend hours a week on science lessons. In fact, you don't even need a formal science curriculum for young kids. Science in the early grades should spark kids' interest in observing and learning about the world around them. It should serve to introduce kids to the wonders of God's creation. It should be fun…not stressful. Here are a few ways you can teach science in the primary grades without any formal curriculum.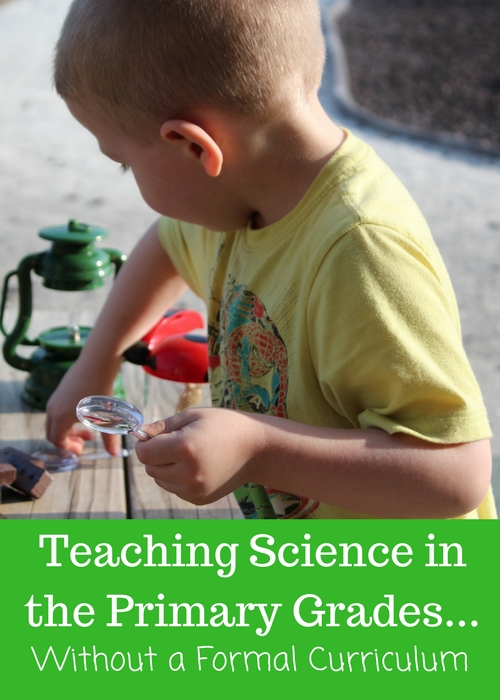 Science Experiments
One of the best ways to encourage kids to learn about the world around them is do science experiments with them. Every kid loves a science experiment. Even my middle schoolers thrill when I tell them we're doing a science experiment on a school day.
Science experiments don't have to be elaborate and formal. They don't have to have written lab reports. They don't have to take hours to perform. They can be simple. The most important part of doing these experiments with kids is the discussion that can take place as you're doing them. "What do you think will happen? What happened when we did this? Why do you think it happened? What should we try next?" When you're asking kids these questions, you're really teaching them about the scientific method…in an informal and fun way.
There are some very inexpensive books with science experiment ideas for kids. But you really don't need to buy anything. There are many awesome websites with fun experiments you can do with kids of all ages. Here are a few of my favorite.
Nature Study
Nature study is a natural and simple way to introduce kids to the world around them and to teach them to observe God's creation. Nature study is one of the methods that Charlotte Mason style educators use, but even if you don't consider yourself a Charlotte Mason homeschooler, you can give nature study a try.
In a more formal version of nature study, you can take the kids outside to explore the world around them. Let them sketch interesting things they see in a nature study journal. When you get back indoors take some time to learn and talk about the things kids have observed.
But you could be more informal in observing and learning about nature. When my children were younger, we would go on a "nature walk" in our neighborhood. The goal was for each of us to find something interesting from nature while we were walking. One child might find an unusual rock. Another might find the season's first acorn. Whatever we found, we would talk about.
Another version of this that we've done is to take a walk and collect nature items that you can use to create a collage. The kids would pick up interesting leaves or sticks or pieces of grass and flowers. Then when we got home, they would glue their findings on to cardstock to create a nature collage.
Any of these versions of nature study are teaching kids to observe the world around them. Nature study is sparking their curiosity about God's creation and teaching them to appreciate the world around them and to look for the beauty in it.
Living Books
Many science textbooks for young kids are dull and dry. Some seem to talk down to kids with juvenile language and vocabulary. The good news is that you don't need a textbook to read to kids about science concepts. There are many great real, living books that you can read instead.
Gather the kids in for a read aloud. You can tell them you're learning science or you can just let them know that you're going to read a great book. Read the book, and, as you're reading, have some good discussion. Let kids narrate passages of the book back to you. Encourage kids to draw a scene based on what they're hearing while you read. They'll be learning and thinking about science concepts without even knowing it.
If you're looking for some great living books to use to teach science, Simply Charlotte Mason has a good list here. The list is divided by age level and then by topic for high school. A Charlotte Mason Home also has some good suggestions with approximate age levels given.
It's fairly easy to introduce kids to science without a formal curriculum. Inspire them to want to know about the world around them and give them the opportunity to explore and learn. That's the low-stress, very effective way to teach science in the primary grades.
~Leah