After homeschooling for so many years, I've heard a lot of questions from a lot of people. Some people really want to learn while others just want to criticize. Anyway, one of the funniest questions I ever heard was "What in the world is electric homeschooling?" The person asking the question had misread the word "eclectic" and thought it was "electric." After we laughed together about it, I explained it to her since we take a very eclectic approach to learning in our homeschool, mixing methods and finding what works. She was actually considering homeschooling so I was glad to explain.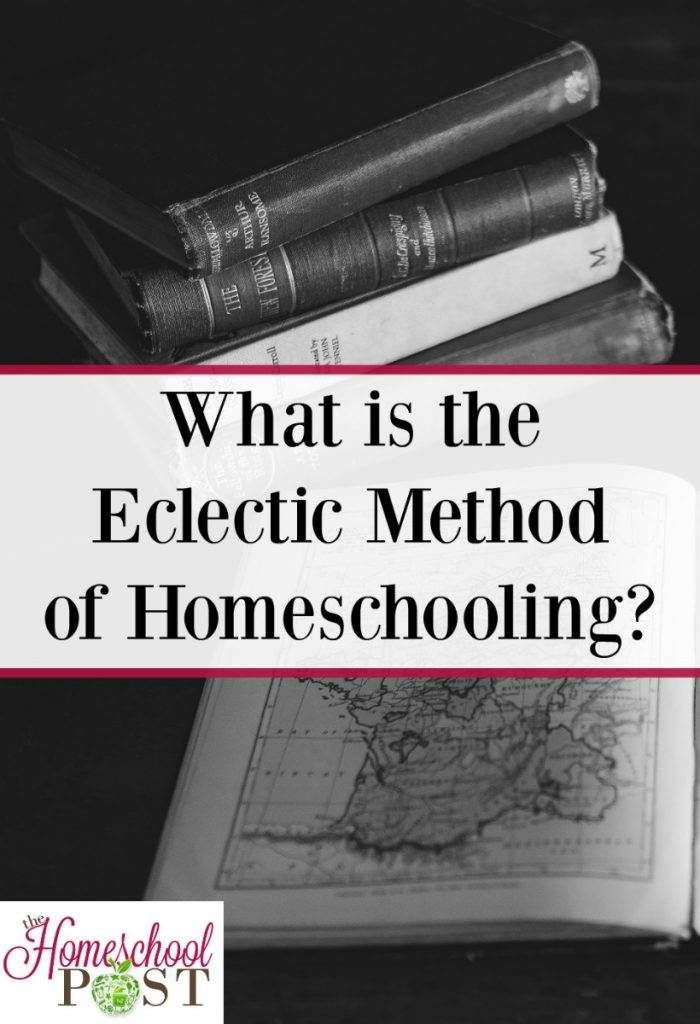 What is Eclectic Homeschooling?
Merriam-Webster defines 'eclectic' as "selecting what appears to be best in various doctrines, methods, or styles". This is the perfect definition as it applies to the eclectic method of homeschooling. Families that use this particular method do not subscribe to an individual school of thought or curriculum when it comes to their child's home education. Instead, they consider all of the methods and resources at their disposal and choose various aspects that suit their purposes at the time. They might use workbooks for one topic but then rely on virtual education for another. They might use the hands-on approach of the Montessori method for one subject, but prefer the Classical Education method for another. In short, they adopt and adapt based on their child's needs, their child's learning style, their teaching style, and the subject matter they are working with at the time.
What Are the Benefits?
The biggest benefit of this method is that it allows for a great deal of customization and tailoring to fit the child's needs and learning style. As you know, every child is different and has a different way of learning. That is part of why many people choose to homeschool. They realize the need for their child to have a more personalized education. With the eclectic method, neither the child nor the parent is limited to one particular learning (or teaching) method. Instead, they can experiment with a variety of styles and use the ones that seem to be the most effective for them. During your homeschool journey, you may find that no single method addresses all of your child's needs as a student. The eclectic method doesn't force you to choose. Because of that, you can create an enjoyable and effective educational experience in which your child can truly thrive.
What Are the Disadvantages?
There are a few aspects of the eclectic method that make it a challenging option. For one, it can take more time. When you focus on a specific method of home education, it is easier to find materials and curricula that fall in line with that particular method. However, if you choose the eclectic method, you have to do a lot of legwork in finding the bits and pieces that you need for your customized curricula, which might take a while. Which brings me to the next point – it requires more research. The eclectic method relies on choosing different things that fit your child specifically, so that means that you are not likely to find a curriculum that is already put together for you. So you would have to do the research yourself.  
Who Uses This Method?
This method is great for homeschoolers who enjoy flexibility, prefer a more 'relaxed' approach to homeschool (as opposed to having a strict set of rules and guidelines), and like to experiment. This method is probably not for educators or learners who need a lot of rules, do not enjoy doing research, don't have a lot of time to dedicate to putting together a curriculum, or who prefer to have curricula that are already put together for them.
Now that you know a bit more about the eclectic method of homeschooling, do you think that it might be a good fit for you and your children? Why or why not? Let me know in the comments below.
~Sara
If you're interested in learning more about the other methods of homeschooling, be sure to read the entire Homeschool Methods series: