Literature- broadly, any single body of written works. "More restrictively, it is writing considered as an art form, or any single writing deemed to have artistic or intellectual value, often due to deploying language in ways that differ from ordinary usage" (Wikipedia).
So literature ain't your run of the mill stuff. Ahem.
I think that oft times there is the misconception that literature is only fiction and poetry. But in reality, it encompasses the vast domain of written works. What it is restricted to, in a sense, is the aesthetic impact it has on the reader. By this I do not mean there is nothing to be learned from literature that is of intellectual value. No; I mean that it presents the information in a beautiful, artistic way.
Literature presents "captain ideas."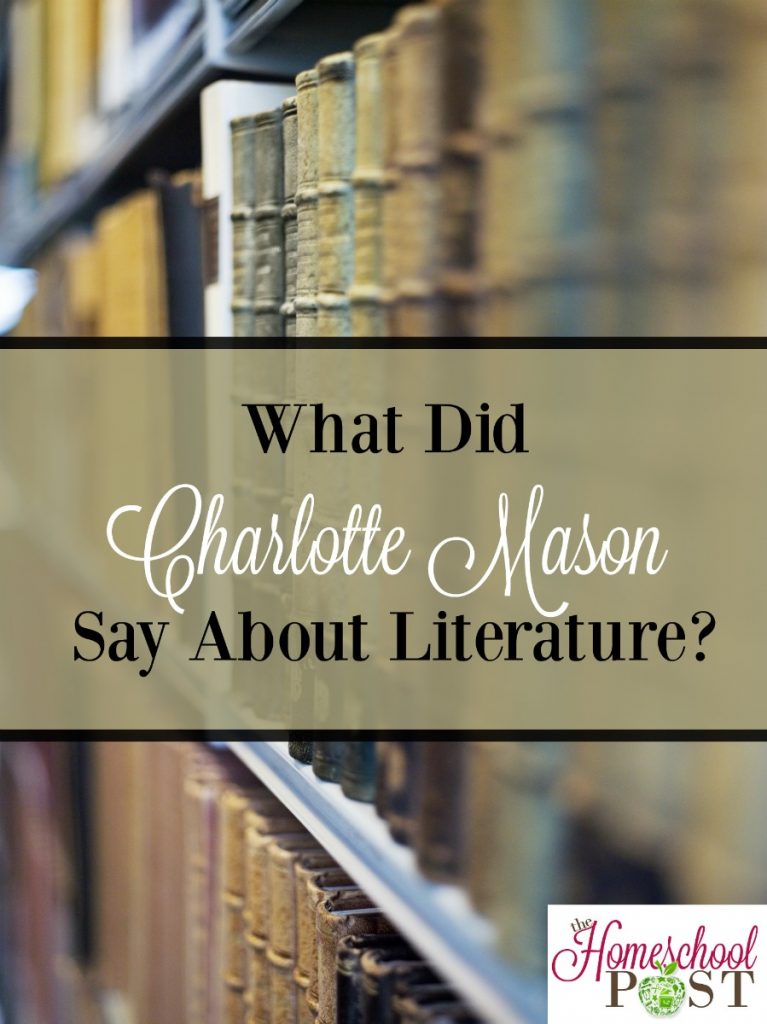 Let's talk about Charlotte Mason's thoughts on literature, with a glimpse of how it should be taught:
As for literature––to introduce children to literature is to install them in a very rich and glorious kingdom, to bring a continual holiday to their doors, to lay before them a feast exquisitely served. But they must learn to know literature by being familiar with it from the very first. A child's intercourse must always be with good books, the best that we can find. Of course, we have always known that this is the right thing for children in cultivated homes, but what about those in whose dwellings books are little known? One of the wise teachers in Gloucestershire notes that a recognition of two things is necessary in dealing with this problem. First, that,––

"To explain the meaning of words destroys interest in the story and annoys the child. Second, that in many instances it is unnecessary. Although a child's dictionary knowledge of words is lacking it does not follow that the meaning of a sentence or paragraph is unknown to him . . . neither is the correct employment of the words beyond him in writing or narrating…"

[This] is the capital charge against most schools. The teachers underrate the tastes and abilities of their pupils. In things intellectual, children, even backward children, have extraordinary 'possibilities for good'––possibilities so great that if we had the wit to give them their head they would carry us along like a stream in spate. Vol. 6, p. 51, 52
We give the children what they can handle, not what we suppose they may be able to, or guess that they definitely could not. Recently a friend suggested the book Les Miserables to another for her high schooler to read. The latter scoffed and said that it wasn't possible for a high schooler to read such a book since she'd not been able to finish it- and she was a college graduate!
In the early years literature includes many Fairy Tales & Fables, but with a cautionary note:
'Do not,' [Felix Adler] says, 'take the moral plum out of the fairy-tale pudding, but let the child enjoy it as a whole . . . Treat the moral element as an incident, emphasise it indeed, but incidentally. Pluck it as a wayside flower.' Vol. 2, pg. 106

[Charlotte continues:] Such fables [that breathe of Eastern subserviency and fear] Mr. Adler would reject. But possibly…the lessons of life culled by peoples of other habits and other thoughts may be quite specially useful to the…child. Any way, we should lose some of the most charming fables if we cut out all that savours of the wisdom of the East. The fables Mr. Felix Adler specially commends are those which hold up virtue for our praise or evil for our censure. Vol. 2, pgs. 107, 108

But we may run no needless risks, and must keep a quiet, matter-of-fact tone in speaking of fire, shipwreck, or any terror. There are children to whom the thought of Joseph in the pit is a nightmare; and many of us elders are unable to endure a ghastly tale in newspaper or novel. All I would urge is a natural treatment of children, and that they be allowed their fair share of life, such as it is; prudence and not panic should rule our conduct towards them. Vol. 3, p. 184
As the child progresses, so does their selection of good books. In the early years, fairy tales, fables, and legends help stoke the imagination of the child. Mason also included poetry and Shakespearean works in the literature line-up. Moving along, we do not cull out these types of readings but they are also presented with classics, historical fiction, short stories, and inspiring biographies.
You could say that a Charlotte Mason approach to education is dependent on good literature* because every area of education in her schools included good literature. As was mentioned at the start, literature is a body of written works that present ideas in beautiful or artistic ways. Geography, history, civics, etc., can all be learned through literature. They can all be learned better through literature.
Readings in literature, whether of prose or poetry, should generally illustrate the historical period studied; but selections should be avoided; children should read the whole book or the whole poem to which they are introduced. Here we are confronted by a serious difficulty.

[Publishers] must excise with a most sparing hand, always under the guidance of a jealous scholar; but what an ease of conscience it would be to teachers if they could throw open the world of books to their scholars without fear of the mental and moral smudge left by a single prurient passage!

Children should read books, not about books and about authors; this sort of reading may be left for the spare hours of the dilettante. Their reading should be carefully ordered, for the most part in historical sequence; they should read to know, whether it be Robinson Crusoe or Huxley's Physiography; their knowledge should be tested, not by questions, but by the oral (and occasionally the written) reproduction of a passage after one reading; all further processes that we concern ourselves about in teaching, the mind performs for itself; and, lastly, this sort of reading should be the chief business in the class room. Vol. 6, pp. 340, 341
I do believe there is much more that can be said about literature but I've already exceeded my planned word count. How about we look at some good book lists?
Let me end by pointing out how important it is to not get between the student and the book**. We do not want to bombard them with facts and descriptors about the time the book was written, or the place it features; or the author's state of mind at the time of publication; or what such-and-such psychologist has come to 'understand' the work to mean. Don't give them commentaries of the book; let them create their own commentary. However, we do want to scaffold their learning and so I direct you to Brandy Vencel's post on helping children with hard books.
  *****************************************************
*Reading is not all there is to a Charlotte Mason education! Be wary of curriculums that tout themselves as "Charlotte Mason" because they have a lot of reading, but not much else. Good 'living books' are only one facet of a true liberal education that brings forth the results she was after:
"The question is not, -how much does the youth know? when he has finished his education- but how much does he care? and about how many orders of things does he care? In fact, how large is the room in which he finds his feet set? and, therefore, how full is the life he has before him?"
**Oh, dear, I don't want to confuse anyone; by this I do not mean that we are to give the book to the student and require nothing, nor give anything. Please have a look at how Charlotte Mason set up lessons in her volumes. Or if you have the book When Children Love to Learn, read through pages 125-147 and 154-162.
~North Laurel