Homeschooling is not a one-size-fits-all proposition. Part of the beauty of homeschooling is the freedom to use whatever resources work best for your children and their individual learning styles, as well as changing and supplementing those resources whenever necessary. For the most part we take a delight-directed living books approach in our homeschool, but I still appreciate being able to supplement that method with quality online learning resources like IXL.
Disclaimer: I received a free subscription to IXL for the purpose of review. I was compensated for my time to write this post. All opinions are my own and I was not required to post a positive review.
What is IXL?
IXL is a website designed to help children practice and master math facts, language arts, social studies, and science. Math and Language Arts are available for Pre-K through 12th grade. Science and Social Studies are available for grades 2-5, with middle school coming soon. New lessons are added often, making the site very comprehensive for all ages. IXL is used around the world in 190 countries.
How We Use IXL in Our Homeschool
All three of my daughters (ages 7, 9, and 14) have been using IXL for the past month. Setting up an account is a simple process. You begin with a parent account, then add student accounts. Each student can choose her own avatar with login name and password. From the parent account, you have access to all of the reports and analytics in the dashboard. Navigation is quick and easy.
After reading over the list of lesson objectives in each grade, I was able to easily assign work to each of my daughters. There is no requirement to stick to one level, which is a great feature in my opinion. Students are free to work on skills in any grade category and move around to adjust when necessary. This makes review a simple process as well as learning new skills, depending on what you need to do with each student.
IXL lists the standards for all 50 states, so it gave me a good idea of where the girls were "expected" to be with their skills.  I could then choose the areas where they needed some practice. It was interesting to me that their skills didn't neatly fit into one grade level, but rather covered a spectrum of several grades. I think that's a useful assessment tool just to be sure that we cover all the aspects of math they need and make progress with it.
My youngest has been working on math and language arts, while my middle daughter has been able to add in science and social studies. My middle daughter especially excels with this type of online learning so it suits her learning style very well.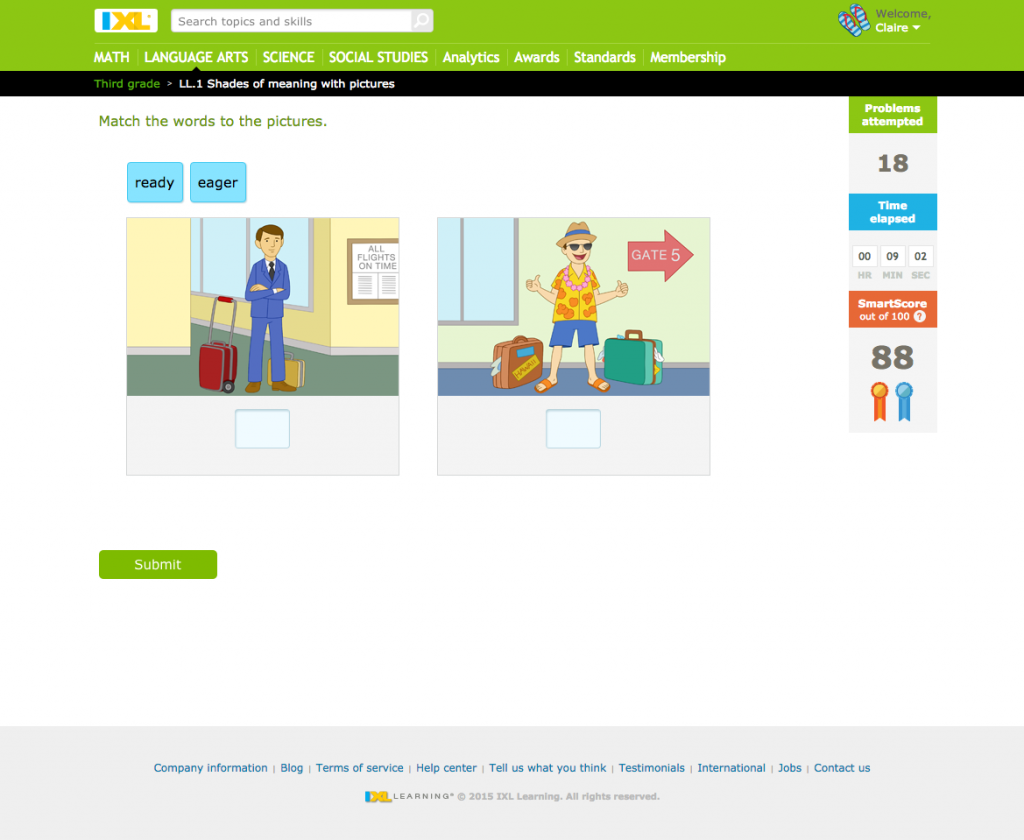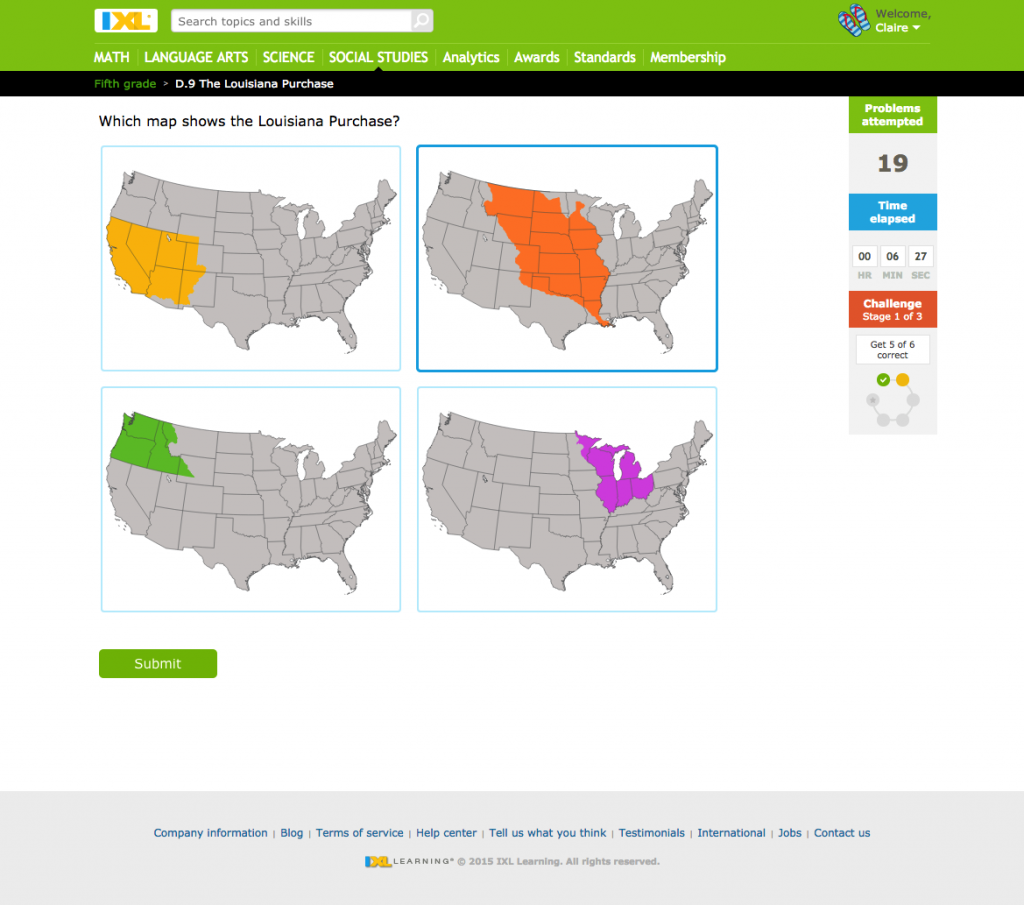 My oldest daughter has been working on high school math. If you're at all math-phobic, this can be a great tool. The high school math offerings cover algebra, geometry, and calculus. Yes, calculus.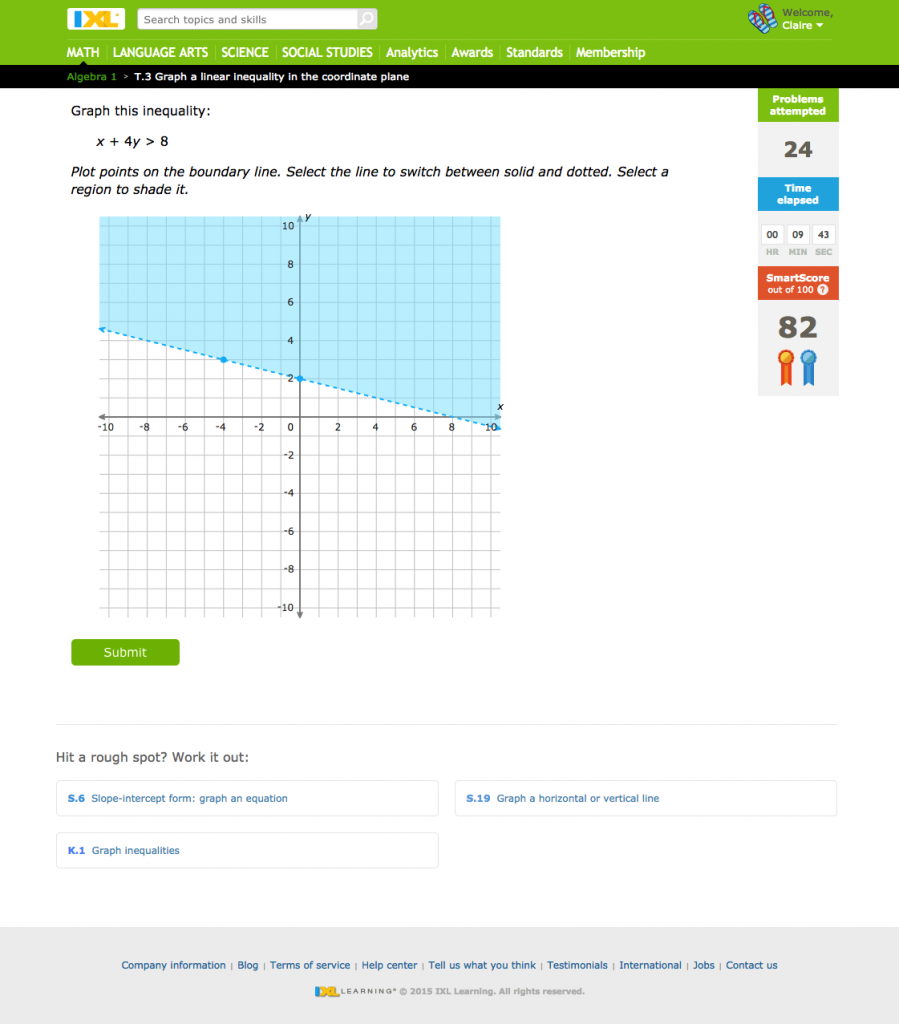 IXL promotes positive reinforcement and a rewards system to encourage students as they progress through the practice drills. Kids earn awards by completing tasks like practicing for 5 minutes or finishing all the lessons on a certain topic/objective. These kinds of things usually work well as an incentive for most kids in the PreK to elementary levels. There is an element of surprise because kids don't know exactly which sticker they'll earn next.
You can also print a certificate of achievement.  I like to do this so we can hang it on the fridge or bulletin board for a while and then eventually file it with our paperwork to show progress made for the year-end assessment.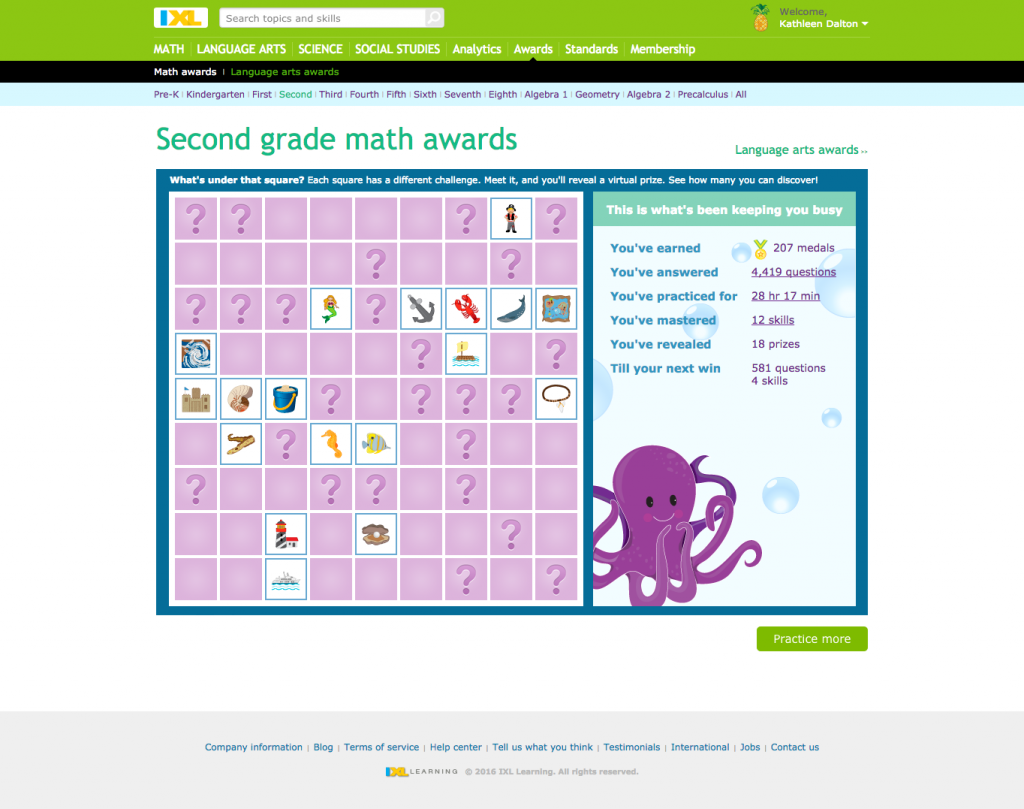 Questions increase in difficulty as their skills improve, so it continues to challenge them without frustrating them. Each level has a list of skill sets. You can start at the beginning and move through them, or select a specific skill area to work on. Students aren't stuck doing stuff they have already mastered so they don't become bored with it.
One of my favorite parts of IXL is the detailed report I get in email each week for each of my daughters. It shows the girls' progress, what they have mastered, and how much time spent practicing. This is another help to me in assessing their skill level and where we need to spend more time. You don't have to wait to get the report in email, though. You can monitor your kids in real-time as they practice to see how they're doing. The scores, amount of time spent, number of questions completed, and number of correct answers are all recorded for you.
IXL is also available as an app for the iPad. We didn't use this feature since we don't have an iPad, but we had no issues with the PC version using both Win7 and Win8.
All three of my girls enjoy using IXL. I don't have to ask them twice if they want to do some practice. That makes it a valuable resource to me. I highly recommend giving IXL a try to supplement your homeschool lessons.
Connect with IXL
You can find out the details of the monthly and annual membership plans on their website.
~Sara