Guest post by Susan of Successful Homeschool Mom
Starting at about age 6 most boys develop the dreaded pencil allergy. The thought of writing even one short sentence about their favorite game can trigger an attack because the sheer amount of steps involved overloads their brain.
The writing process requires the combination of several skills working together:
Pin down the topic and the right words
Construct the sentence mentally
Spell the words correctly
De-code the correct punctuation and capitalization
Employ small motor skills needed to control a pencil
Interpret feedback from your eyes as you form letters, stay on the lines, and monitor the spelling and grammar
Transmit signals from the language processing center of the brain to make tiny corrections in hand motions
All of these processes have to happen all at once. While sitting still. The brain of a young boy hasn't matured enough to handle the complexity. As adults we take the process for granted but little guys have to consciously think through each aspect and many times their young brains are just not ready. Forcing too much, too soon makes pencil allergy a terminal condition as the child grows up believing "I can't write."
Maximize his success with writing by breaking the process down into smaller, more manageable chunks and be sensitive to his readiness for writing. It may mean waiting until ages 8 or even 10 years old to start formal writing work. Dr. Raymond Moore, author of Better Late than Early cites numerous studies from several major universities which unanimously agree: holding off formal education until ages 8 to 10 results in easier, stress-free learning that quickly catches up to and surpasses the level of their peers.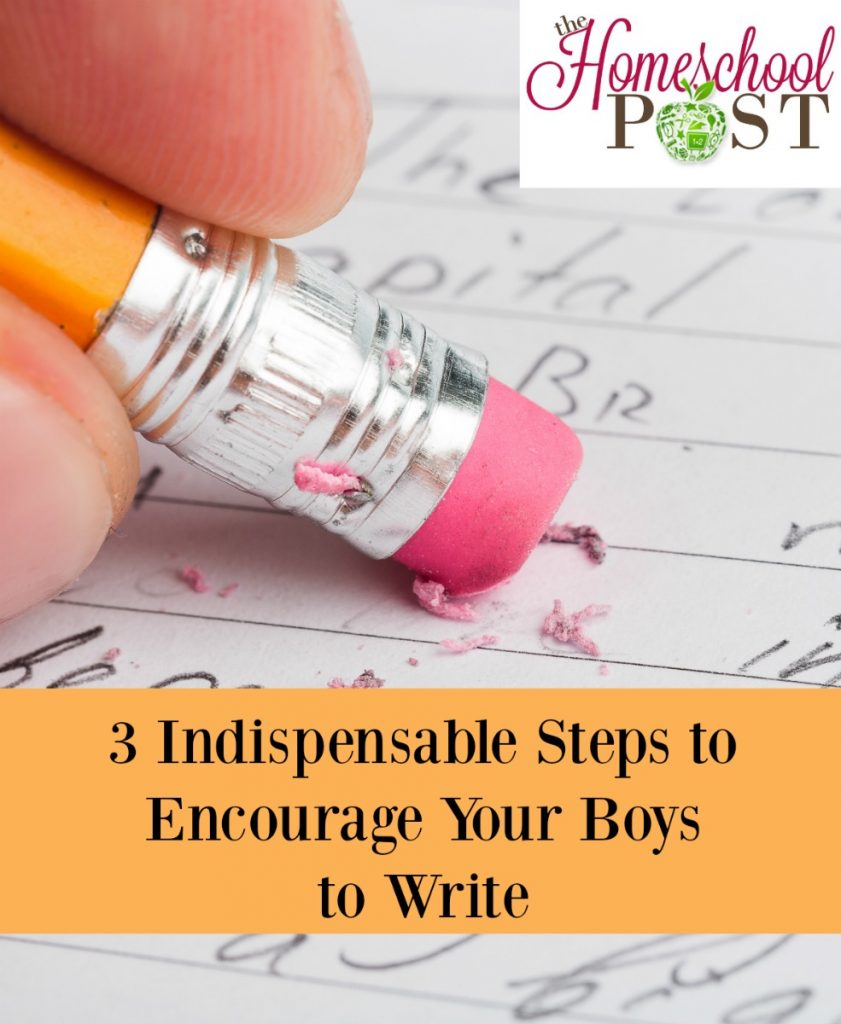 3 Indispensable Steps to Encourage Boys to Write
Use these 3 pre-writing steps with your 5 to 7 year old to lay a strong foundation for formal writing and grammar work beginning around age 8.
1. Copywork – Starting with copywork allows your son to focus on one thing: forming letters. He doesn't have to think about spelling, or what to write, or proper grammar. Use large lined paper. Notebooking pages from notebookingpages.com are perfect because they have wide lines and a wonderful array of images and designs to add interest. Ramp up the fun factor with colored pencils instead of regular lead pencils. Copy exceptional literature– Bible verses, selections from poetry like Robert Louis Stevenson's A Child's Garden of Verses, or a few sentences from classics like Tom Sawyer. By using great books for copywork, your child will absorb the language, vocabulary, spelling, tone, and a feel for excellent writing from some of the world's best authors. A good example of this is the Charlotte Mason inspired Write through History series.
2. Audio books – Listening to classic books on CD will reinforce some of the same benefits of copywork. As your child hears quality literature, he will develop an ear for the rhythm and flow of good writing. His vocabulary will expand exponentially. When your son does begin his own writing, simply have him read it out loud. Training his ear to good writing equips him to readily pick out awkward sentences and misplaced punctuation in his own writing. As an added benefit, audio books are a miracle cure for the boredom of long car rides. Many libraries have books on CD as well as online portals for direct downloading of digital files. One of our all-time favorite audio books is the re-telling of Les Misérables by Focus on the Family Radio Theater.
Include some fun books on CD as well. Hank the Cowdog stories are silly and fun for elementary aged boys, The Ranger's Apprentice series will enthrall pre-teen boys. Don't be afraid to give up on books that are tedious and boring! Labeling a book as a classic doesn't mean you HAVE to listen to it all the way through. Some stories just won't click with your family. You hereby have full permission to turn it off and try another one. Life is too short to waste on boring books.
3. Narration – A mainstay of the Charlotte Mason method of homeschooling. Let your son tell you what he has learned instead of writing it out. You can even write it down for him at first.
Allowing a child to speak his thoughts instead of writing will help him develop the skill of organizing his thinking without the added pressure of having to write and spell correctly.
Sometimes putting pen to paper is the surest way to stop the flow of inspiration!
My son has a mild case of dysgraphia. By using these techniques well into his pre-teen years he developed an extensive vocabulary and confidence in his writing ability. His writing skills will continue to improve because we gave him the 3 step pencil allergy cure early on. He never got infected with the idea he couldn't write. When applying for college, he tested out of freshman English. His penmanship is not spectacular, but filling out job applications provided the necessary motivation to improve without requiring any nagging from mom.
Putting aside formal language arts curriculum and focusing on copy-work, audio books, and narration for the first few years of schooling will help your child' brain develop each individual skill necessary for writing success and inoculate them against pencil allergies.
~Susan

Susan is the CEO (chief encouraging officer) at Successful Homeschool Mom. She and her husband live in rural New England where she enjoys her gardens and her deck chair. She is a 20 year veteran of homeschooling and facing retirement with barely-contained enthusiasm as her youngest heads off to college. Susan is the author of Every Child Can Succeed and has a master's diploma in Biblical Counseling. Her passion is to equip and encourage homeschool moms to seek God's grace to be their best so they can give their best. You can find her on Facebook as well.