Homeschooling is a wonderful blessing, and I'm so glad we've made that choice for our family. But it's very easy, as a homeschooling mom, to be so caught up in the kids and curriculum choices and learning and teaching and driving kids around and…that our marriages suffer from lack of time and attention. At the end of the day, by the time books are put away and supper is cooked and cleaned up and kids are heading for bed, I really don't have much energy left to finally have time to spend with my husband.
Even though it is sometimes difficult to make time for nurturing our marriage, I know it's an important thing. Marriage should be a top priority. So how can I balance being a homeschooling mom and being an attentive wife? Here are four things I've found to help me work toward a good balance.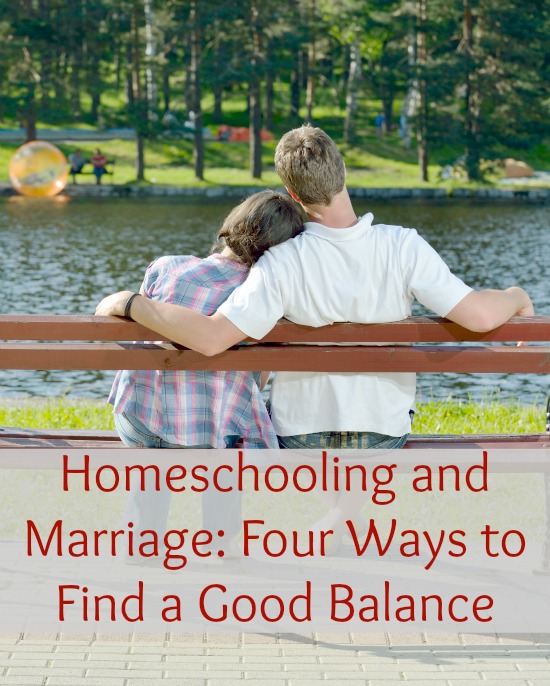 Homeschooling and Marriage: Four Ways to Find a Good Balance
Include husbands in decision making.
I'm the primary decision maker when it comes to choices about our homeschooling. I research curriculum. I sign up for co-ops. I plan the extracurricular activities. I'm the one who has the time to do this, so it falls to me. My husband cares about what we do, but he doesn't have an interest in all of the particulars most of the time because he isn't here during the day.
But, every once in a while, we talk about the way things are going and discuss what's working and what's not. Even though he isn't there every day while we do school work, he often has a great idea about curriculum or about what a specific child needs to be able to break through and learn something he's struggling with. Or sometimes I'll ask him about joining a new co-op or a new homeschoolers group. He can have some really good input about whether or not it would be a good fit for us and how it would work with our schedules.
Taking the time to talk to him and ask his advice and opinion can go a long way toward making him feel a part of what we're doing every day. I understand that he's in a whole different world as he goes off to work every day. But I want him to feel a part of homeschooling because it's a large part of who we are as a family. And when I make him feel included, it strengthens our marriage and his relationship with the kids.
Have set bedtime routines.
It's a fact. We can't have time alone together until the kids are in bed at night. Even now that our kids are older and don't need us to micromanage their getting ready for bed. they'll pop in and out of our room with questions or to tell us one more thing. We quickly learned that to protect the time we have to spend together, we have to have established bedtime routines.
Our routines change with the season of life we're in. When the kids were younger, a bedtime routine included baths and story time and kissing goodnight as we turned out the light, leaving the room with the expectation that kids would stay in bed and not get up and down. Now the routine means that we have a certain time that kids are to be in their rooms, without electronics and without popping in and out of our room.
The routines can be flexible, and they can shift and change as kids get older or as night time activities change, but the important thing is to emphasize to the kids that we want to protect the time we have at the end of the day to spend together. This shows the kids that our marriage is a priority.
Establish a regular date night.
Going out on a regular date night is something we've tried to do throughout our marriage. What this date night looks like has definitely varied throughout the seasons of our parenthood. And we don't have a set night of the month or a set destination or plans for our night out, but we try to make time for one on a regular basis.
We've gotten creative on our date nights. We're blessed to have family in town, so we've usually had family members to come over and stay with the kids once a month or so for a night out. Occasionally we've traded off nights of babysitting with another family. There are times we've taken the youngest baby on date nights with us because I was nursing. And there are times when we didn't have a sitter or couldn't leave the kids so we put them to bed or set them up with a movie and then picked up take out from a restaurant and had a date night at home.
The point of date night isn't to always go to a fancy restaurant or dinner and movie. Lots of times we have no extra money to spend, so we do something as simple as walking around Target for a couple of hours. The purpose of date night is to make our marriage a priority, to stop what we're doing and make time to spend together.
Leave some margin in your day.
This is the hardest suggestions for me to follow. I'm a doer, and I tend to pack as much into a day as possible. We can get school done, attend co-op, head off for a dance class, and still make time for cooking supper in the afternoon and then cleaning the kitchen from top to bottom before bed. I get all these things accomplished and feel pretty proud of myself for the day.
The problem is that after completing this crazy, busy day, I have nothing left over. I'm so tired and done in that all I can do is smile at my husband as I roll over and turn out the lamp for the night. I've run and run all day, and at the end of it all, I'm done. The message this sends to my husband is that I don't care enough about him to leave time in my day for him.
When I make wise choices about our day's activities, I can leave some margin, some breathing room. And in that time at the end of the day, when kids are settled in and we have some moments to spend together, I'm not exhausted. I have energy left over, and I make it a priority to spend time with my husband.
Even with all of these good intentions, there will be seasons of life that are busier, weeks where we seem to just wave at each other in passing. But by being deliberate about doing some of these things, we can make our marriage a priority, and we can achieve balance between being a homeschooling mom and being a wife.
[Leah1]