Guest post by Kerry Jones.
It's one of a homeschooling parent's favorite questions for each other: "What is your homeschooling style?" If the question is new to you, then you are likely new to homeschooling! Don't worry, it won't be long before you are approached with it. And it won't be long, either, before you have an answer!
When you are homeschooling a child on the spectrum, though, the question takes on a particular importance. While parents of neurotypical kiddos may be able to simply "choose" to be unschoolers, or literature-based homeschoolers, or virtual schoolers, we parents of ASD kiddos have specific considerations to take in. So, let's look at some of the most popular homeschooling styles out there, and talk about them spectrum parent to spectrum parent, shall we?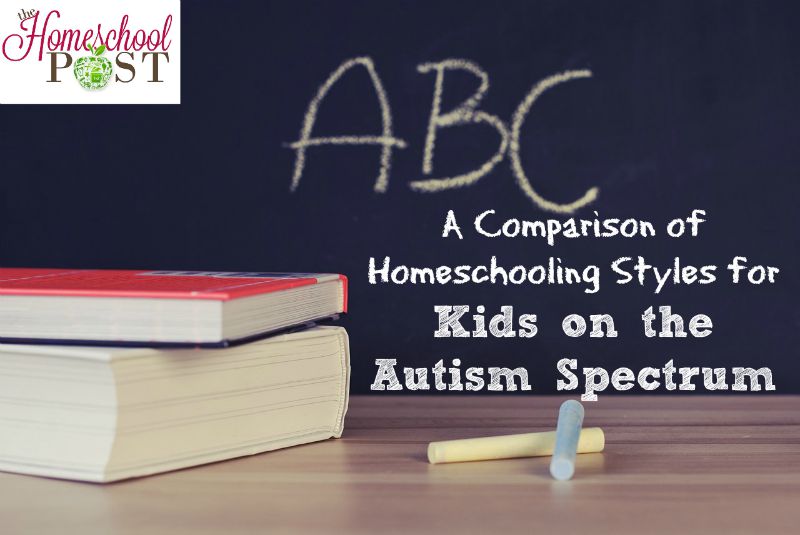 Homeschooling Styles for Kids on the Autism Spectrum
Classical Homeschooling
The classical approach has the worthy overall goal of teaching children to think for themselves. Using the "trivium" model, children move through three main stages of learning: concrete learning, critical learning, and abstract learning. It's a language-focused, literature-focused homeschooling style that has become increasingly popular in many private schools.
Pros
it focuses heavily on finding connections between math, science, history, and literature – – something that kids on the spectrum seem to have a natural affinity for

with it's forward-focus, it reminds parents to look to what their child can accomplish instead of what they can't
Cons
If you have a child who has difficulty focusing on books or printed materials, this homeschooling style can be especially challenging

Most all published classical homeschooling curriculum would need to be overhauled when using with a child on the spectrum
Charlotte Mason Homeschooling
This whole-child approach to homeschooling is based on the teachings of 19th century writer and educator Charlotte Mason.
A Charlotte Mason homeschool day might consist of nature walks, journaling, dictation, handicrafts, and reading of living books.
Pros
While it's difficult to think of too many pros for this copywork/dictation-heavy style of learning, I've definitely read narratives by parents who've had success with a "gentle CM" approach

CM advises a lesson length of no more than 15 minutes at a stretch for younger learners, which is always good advice when working with children on the spectrum
Cons
With books and journaling at the center of this style of learning, a child with a disinterest in reading and writing would likely be frustrated with this approach

Another key focus of the CM method is narration (telling back in your own words what you just heard or read). Need I say more?
Unschooling
The unschooling, or child-led homeschooling style gets a lot of press time, doesn't it? As you are probably aware, an unschooler usually has no formal curriculum, but is allowed to learn according to his or her own interests, time-table, and motivation. Does this sound like a recipe for disaster for an ASD child? Let's look at some of the advantages and disadvantages to this approach:
Pros
Children who have finely honed interests can explore those passions unencumbered by the restrictions of a curriculum

Can help keep parents focused less on what a child "should be doing by a specific age", and focused more on the joy of learning
Cons
Radical unschooling without any schedule or structure can be unsettling to some children on the spectrum

Unschooling depends heavily on a child's inner motivation to explore the outside world, while many children with autism are content to be occupied with their inner world
Virtual Schooling
As more and more states open virtual schools, it has become a popular option – – particularly among new homeschoolers who worry about completely taking their child's education into their own hands. A virtual school (technically considered a public charter school in most states) offers parents the ability to school a child at home on the computer while still being under the umbrella of the public school system.
Pros
For new homeschool parents, it can be a good gateway into homeschooling and can relieve some of the stress of full educational responsibility

Scheduled and set up like a public school classroom, which can be comforting to some ASD students who are transitioning to schooling at home
Cons
Curriculum cannot be easily customized to meet individual student needs

Much like a public school classroom, scheduled deadlines for work mean less flexibility in amount of work and time required
Eclectic Homeschooling
Eclectic homeschooling is a bit of a "catch all" phrase to describe a style of homeschooling where parents mix and match curriculum and teaching styles to fit each student. They may go to a weekly homeschool cooperative for science, study history with living books, study math using an online curriculum, and integrate notebooking into language arts. This style of homeschool would look different not only in each homeschool, but for each homeschool student.
Pros
Students receive a completely customized education for their needs and learning style

Because of the flexibility of this style, if one approach or curriculum isn't working, parents simply try something else
Cons
Requires significant parental time to research and find resources that will work for each student

Can be somewhat expensive to purchase materials for each child unless parents seek out free resources
Wrap-Up
In my experience, I find that all homeschoolers who have a child on the autism spectrum tend to be at least somewhat in the final category of "Eclectic Homeschooler" even if we see ourselves primarily as another style. That's because no one homeschooling style is going to fit our kids every day and in every situation. Just as we have to be in every other aspect of our life, our approach to homeschooling has to be flexible. The more we force a style that just isn't working, the more frustrating homeschool becomes for our kids and us.  And the truth is, learning is fun. So the true homeschool style that will work best for you is simple. It's the one that reminds you how incredibly fortunate you are to be learning together.
Author Bio: Kerry Jones has been homeschooling since 1999, and has authored multiple homeschooling sites including SecularHomeschool.com, LetsHomeschoolHighschool.com, and HomeschoolLiterature.com. Her newest pet project is creating a social community for parents homeschooling a child on the autism spectrum on Facebook and Twitter.