It's time for Top Ten Wednesday! Have you been enjoying "meeting" each of these homeschoolers through their blogs? Be sure to take a minute to stop by and encourage them.
Each week we will be highlighting the Top Ten Bloggers from each category of the 2014 Homeschool Blog Awards. We understand the hard work that is involved in running a successful blog. Kudos to all who were nominated, all who made the top ten, and to our winners!
This week we are highlighting the 2014 Best Super Homeschooler Blogs!
Best Super Homeschooler Blog
When you're looking for inspiration from someone who has it all together, THIS is the blog you click to read! Their enthusiasm blows you away and you can't wait to read more!
Winner 2014 Best Super Homeschooler Blog
The Unlikely Homeschool was the winner this year!
Top Ten 2014 Super Homeschooler Blogs
In no particular order: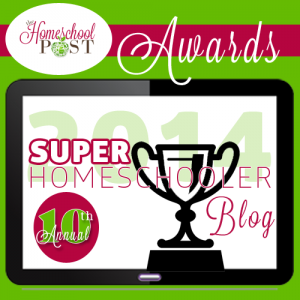 Feel free to grab a button to display on your blog!