Remember that time when you were a teenager and wished your brown eyes were blue, or your straight hair was curly? Or the other way around? Or those times when you wished you could wear a certain hairstyle or outfit and have it look half as good on you as it looks on your friend?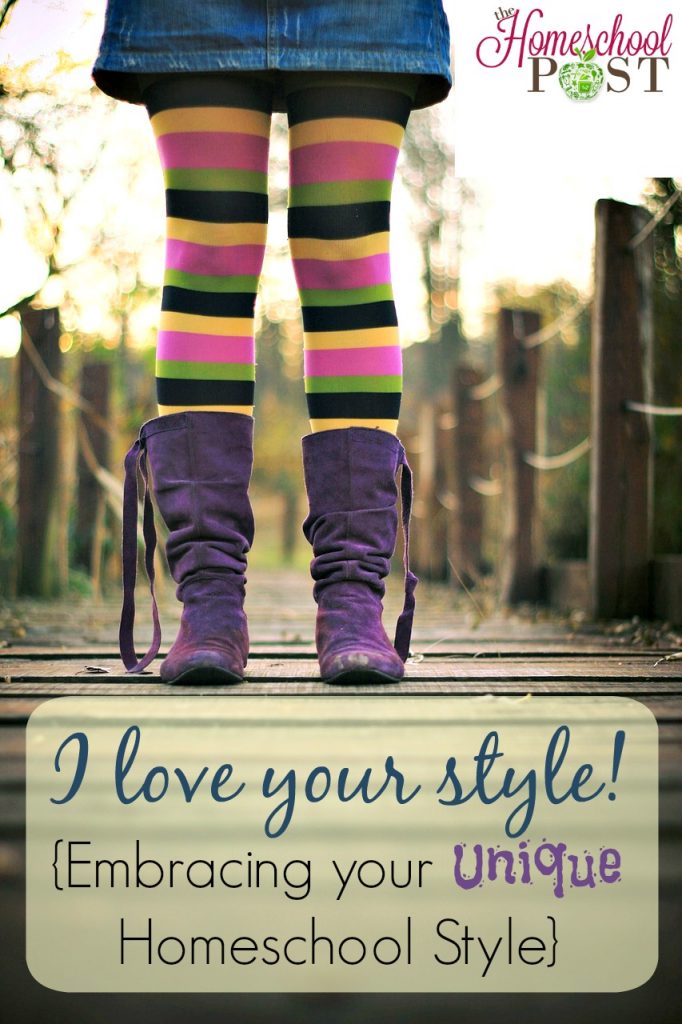 I've seen – and experienced! – that the same sort of thing sometimes happens with homeschoolers. I felt pretty good about our unit study on American History until I heard about another family's literature-based study and then I wondered if I'd included enough books in ours. I felt pretty good about the Biology textbooks we chose to use until I saw how cool someone else's hands-on study was, and then I worried that maybe we hadn't done enough.
It's tempting to be a bit jealous when other families are learning Latin together and enjoying it, but we couldn't fit it into our schedule. Or wish that we could go on awesome Field Trips like that homeschool blogger I admire does, but the nearest decent museum is over an hour away from us so it's not that easy. Or regret that I hadn't started off my children with nature journaling when they were little, because my friend's first grader is so cute with his little journal and sketches.
There's another side to that comparison trap too – we're sometimes tempted to look down our noses just a wee bit at that other homeschool family that does things differently – bless their hearts – than we do, and we somehow feel that our style is better.
Here's the thing: My style IS better than yours…. for my family. Your style IS better than mine… for your family.
I'm not even sure it's possible to stop comparing ourselves to others, but I do think we need to be careful of our attitude when we compare. I have learned (for the most part) to be comfortable with our homeschool style, and that the resources we use and the way we use them suits us best. So I can listen with great interest as another homeschool mom tells about how their Classical style homeschool works and think how great it is, and learn from it, without thinking that we are either better or worse because we do things differently.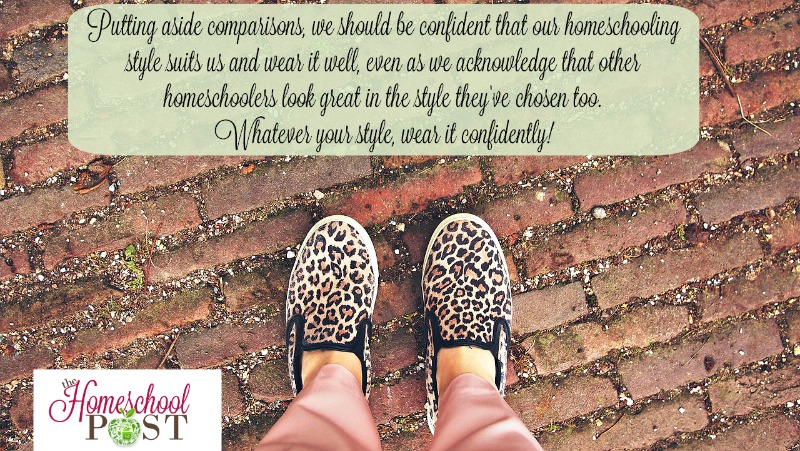 I bet you wear your hair differently than I do. Maybe it's important to you to spend more time styling it, or maybe you prefer to spend almost no time on it at all. You might prefer longer or shorter, curled or straightened; layered or not; but whatever you do, it's probably what you've decided looks good on you and you like it that way. I've also been to enough homeschool conventions to know that homeschool moms dress differently. Some wear jeans and t-shirts; some wear skirts or dresses only; some are very casually dressed; and some are in elegantly tailored outfits. There's that old stereotype about homeschool moms wearing denim jumpers, but I think we all know that we come in more clothing styles than just that.
Guess what? We also come in more styles than just Delight-Directed or Charlotte Mason! And we should be confident that our style suits us and wear it well, even as we acknowledge that other homeschoolers look great in the style they've chosen too.
Whatever your style, wear it confidently! It suits you, and you look great!
[Kym1]