Guest post by Linda Rose.
I began my THM (Trim Healthy Mama) journey this past summer. In June I started training for a 5K using the Couch to 5K training program. Shortly after that, a friend started up a Trim Healthy Mama group at her house. At first I was like, ok sure I'll come, but you can't make me eat anything green or weird. After hearing people talk about THM, I still wasn't convinced, but ordered the book out of curiosity anyway. I read the book and it just made sense. I had a light bulb moment! You see I had always thought that in order to lose weight I would have to eat weird or green food, but it turns out that isn't the case at all.
It's been slow going, and there are days that I find it challenging to eat on plan all the time, but even so, I've lost almost 27 pounds! I feel healthier, have more energy, and am still running. It almost feels strange to be able to eat some of the foods that I do eat and be able to still lose weight. And I don't have to eat any weird or green foods (unless I'm feeling adventurous). I'm a pretty picky eater (so are some of my kids). In order to make THM work for me, I've had to make foods that the whole family will eat and love. I'm not about to make a meal for them and then make a separate one for me.
Many of the recipes in the THM eating plan are extremely quick and easy. If you are like me, you can appreciate that because honestly who has the time or the energy to slave away in the kitchen?
A couple favorite recipes at my house:
Chicken Alfredo (S meal for THM)
6-8 
frozen chicken breast tenders (or 3-4 whole chicken breasts)
1 pint heavy whipping cream
garlic powder (or fresh if you have it)
salt and pepper to taste
Serve over Dreamfields spaghetti pasta or steamed broccoli.
Place the frozen chicken breast tenders into the bottom of the crockpot. Pour the heavy cream over the chicken. Sprinkle the garlic powder over the cream and chicken. Salt and pepper to taste. Add the mozzarella cheese. Turn the crockpot on high. I like to stir the ingredients every hour or so. It just prevents the cream and cheese from burning on the edges. As the chicken cooks it becomes tender and breaks apart easily. I use a fork to pull the chicken apart before serving. I serve the alfredo sauce over Dreamfields spaghetti with broccoli on the side. It's so easy and delicious. I put the ingredients in the crockpot at lunchtime and it is ready by dinner time. If it's ready sooner, then I just turn the crockpot down to warm until we are ready to eat it. The house smells delicous while this is cooking!
(adapted from a recipe in the THM book, which you can purchase here)
Ham and Cheese Scrambled Eggs (S meal for THM)
6 eggs
4-6 thick slices of ham–diced
1-2 tablespoons of cream cheese
1/4-1/2 cup shredded cheddar cheese
Put all of the ingredients into a mixing bowl. Add salt and pepper to taste. Whisk everythin
g together. Melt a couple tablespoons of butter into your frying pan. Add the ham and cheese egg mixture, stirring to help everything cook evenly.

You can use more or fewer eggs; this is what I use for our family. Alternately you could substitute the ham for some other breakfast meat–bacon or sausage is yummy too. Be careful if you choose to substitute store bought pre-packaged bacon bits as many of these have sugar in them.
These are quick, easy, and yummy–perfect for a quick breakfast!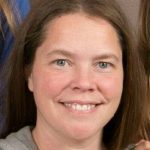 Linda Rose blogs at Rose Academy and Sew Happily Ever After. She has 15+ years of teaching experience in public, private, after-school, and home school settings. She enjoys homeschooling her own children as well as teaching small group English classes in her home and at local co-ops. Sewing has become an important creative outlet for her and allows her to use her talents to bless her own family as well as others.