With all the discussion of goals and resolutions that comes with a new year, I try to include spiritual enrichment at the top of my list every year. It is an area I need to re-evaluate often because it seems much too easy to lose sight of my goals. Life is busy. Homeschooling and being a full-time mom to three kids (one with special needs) keeps me going all the time. "Quiet time" is not a concept I'm familiar with most days. If I want to spend quality time in the Word, I've got to be intentional. Sometimes I'm just at a loss for where to begin in that process. Kathy Gossen has written a 90-day chronological New Testament devotional called "And the Word Became Flesh" for moms like me to make a meaningful connection between the scriptures and daily life.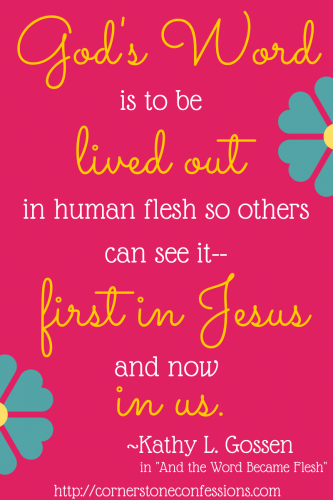 A Devotional for Busy Moms
As a wife, mother of two, and entrepreneur, Kathy Gossen knows what it's like to feel frazzled during her daily quiet time. Prior to the creation of "And the Word Became Flesh," she became increasingly frustrated by trying to fit it all in before being interrupted by pattering feet. Some days would be filled with great times of prayer. Others would be wonderful times of Bible study. She even memorized scripture on a weekly basis with her children. Yet, one discipline rarely flowed into another and little of what she read or did ever reached her heart where real change could take place. Her daily quiet time had become another item to check off her to-do list, and the inclusion of each of the spiritual disciplines in her weekly, let alone daily life, slowly became a distant memory. She knew it was time for a change. She knew there had to be a better way so out of that frustration blossomed "And the Word Became Flesh." This 90-day journey guides you to not only read through the New Testament chronologically in 90 days, but be transformed by the Word as you take time for reflection, prayer, and scripture memory based on what you are reading and is intended for repeated use. Use it for your personal quiet time or as a springboard for your New Testament homeschool studies and let the Word become flesh in you!
Kathy is generously donating one paperback or Kindle copy of "And the Word Became Flesh: A 90-Day Chronological Journey Through the New Testament" to the Best Variety Blog winner in the 2014 Homeschool Blog Awards.
Visit Kathy at Cornerstone Confessions website, Facebook, Twitter, and Pinterest.
[Sara1]