Are you like me and write things on scraps of paper, only to lose them later when you need them? How about keeping several separate notebooks, binders, and even computer files so that all your thoughts and plans are scattered and stored in different places? I'll confess to being guilty of that one, too.
I wanted to try something that could keep things organized and in one place with a system that I could use consistently. Lessontrek is a new online record-keeping software designed to make homeschool lesson planning and grading so much easier for parents.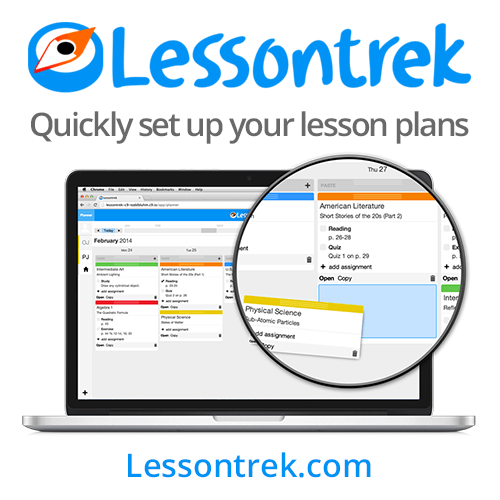 How It Works
Lessontrek offers monthly ($6) and yearly ($60) subscriptions.  The interface is straightforward and easy to use.  Setting up students is a quick process.  This is a screenshot of the student profile setup:
Features
Lesson tracker
Grade recording
Drag and drop lessons to another weekday
Copy/paste lessons across weeks
Copy/paste an entire week of lessons
Print weekly lesson plans
Secure information storage
Customer support
Ongoing improvements based on your feedback
As a new product, Lessontrek is being improved all the time.  New features are in the works, including transcripts, attendance tracking, gradebooks, and more.
Lessontrek also offers a free 14-day no risk trial so you can see how it works before committing to a subscription.
How I Used It
My girls are 12, 7, and 5.  We are relaxed homeschoolers, though our state is highly regulated.  We tend toward delight-directed, almost unschooling, literature-rich studies.  Record-keeping and lesson planning are necessities, but they aren't easy for us.
Even though we don't fit neatly into a homeschool method category, Lessontrek worked for us because it is so flexible.  You can plan ahead and create assignments for your kids, as well as assign grades for those lessons. This works well for my oldest daughter who is starting middle school studies this year.  I'm beginning to consider things like credit hours and transcripts for the future.  *gulp*
Or, you can use the system as a way to keep records of what you have actually completed rather than what you plan to complete.  I often write things down after the fact because my two youngest girls are still little and we don't do everything in a formal way.  I still need to keep track of it for the school district and Lessontrek works well for this.
Like any tracking and grading system, whether paper or digital, consistency is the key. No system will work unless you make it work for you as part of your routine.  That's where I've fallen apart in the past.  I like pen and paper systems, but I often end up spilling tea on them or accidentally tearing pages.  The storage issue is a problem, too.  I want to make digital work for me because it really is practical in the long run.
Some of the features I like best include copy/paste and drag and drop.  These are big time savers and make things a lot easier for me since I tend to move things around when our studies change due to delight-directed detours.
I used Lessontrek on my desktop PC running Windows 7 and a Firefox browser with no issues.  It also works with Chrome, Safari, and Internet 10+.
Save 50% off a yearly subscription
Lessontrek would like to offer ALL of our readers 50% off a 1 year subscription. This makes it very affordable for even tight budgets. Families can get a full year access to Lessontrek for just $30.  Just click the $60 yearly subscription choice and enter the code 2IOL50 in the Payment Info section.  Your credit card will be charged $30 for a full year and then renew for $60 each year thereafter.
If you're looking for an easy-to-use digital homeschool lesson planning and tracking system that can be accessed from anywhere with any of your computers or devices, you should consider Lessontrek.
[Sara1]
Disclaimer: This is a sponsored post written on behalf of Lessontrek.  I was not required to write a positive review and all opinions expressed here are my own.