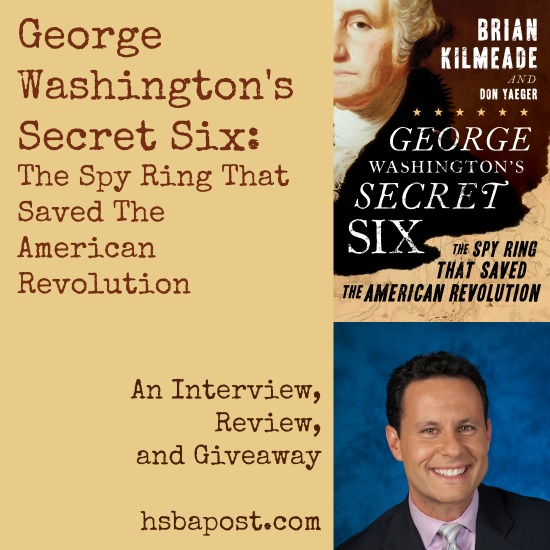 Last November, I was given an amazing opportunity to review a newly released book about George Washington, and interview one of the authors, Brian Kilmeade. To say that I was excited would have been an understatement. We watch Mr. Kilmeade on Fox & Friends in the morning. For me, it was like being asked to interview a celebrity! His book, George Washington's Secret Six, was one of the few books on my want list; I couldn't wait for it to arrive.
The Interview with Brian Kilmeade
I am not an interviewer, at all. I have great appreciation for Mr. Kilmeade and his ability to suffer through it with grace and enthusiasm. I am not going to post the full audio from the phone interview in this post, but will provide a link for our subscribers.
***********************************************

***********************************************
Where to Find Mr. Kilmeade
You can find Mr. Kilmeade weekday mornings from 6-9am on Fox and Friends. From 9-noon, you can catch his radio show "Kilmeade and Friends" with the Fox Radio News App and on over 90 stations. More details can be found at the Kilmeade and Friends website. When he isn't working, he enjoys writing books, coaching soccer and raising his three kids (with is wife, of course).
Kilmeade and Writing
Mr. Kilmeade has always been interested in history and social studies, and recalls anxiously awaiting television specials as a child. It was no surprise that he is a fan of The History Channel. He saw writing this book as an opportunity to share a little bit of the mystery and a little bit of the history. After reading that the research and writing took over 20 years, I asked Mr. Kilmeade how he stayed motivated to see it through. He said, he thought the story should be a movie. Many movies, such as The Patriot, are loosely based on facts. This story is based on facts, facts he and Don Yeager can back up.
In your research, what fact did you find most surprising?
How brutal the British were, and how dismissive they were over the possibility of us winning, how resourceful Washington was
If you were to assemble your own spy ring, which of the six would be your first recruit?
Robert Townsend  he was the guy who had to live in the city in the midle of the british officers, run his grocery store, yet he held his cover in the middle of the enemy knowing he'd be hanged that day if discovered.
Everyone Will Love This Book
The introduction to this book, a mere two pages, left me with goose bumps. I asked Mr. Kilmeade if I could expect the rest of the book to be as exciting and he replied, "yes. A lot of kids, high school kids, are reading it. It moves people. It reads like a novel." I shared with him that many homeschoolers appreciate history books that bring the facts to life, rather than blandly listing them out like a textbook. I asked him if the book would be appropriate for reading to elementary aged students. "Absolutely," he said, "The book talks about the families and their background. It's a spy story with everyday people in it. Imagine if your neighbors were asked to risk their lives to win a war. Could they? Would they? "
Why I Am Loving This Book
I love an good unsung hero story. I love it when the quiet ones, who did amazing things, finally get a little recognition. In many cases, their stories never can be told. Not this time. This time the secret can come out, and six devoted Americans can take their rightful place in history.
I don't care for traditional history books. Boring facts, piled on top of more facts, but never really put into a context that I can relate to is what made me dislike learning history. It wasn't until a friend showed me books that presented history in a living, real fashion. This book, does an amazing job of putting names to faces, and emotions with historical facts. I felt scared. I felt excited. I was engaged and learning. It is a book I look forward to reading with my children when we being studying American History.
The Giveaway
Mr. Kilmeade's goal in wriitng the book was to share this story, located on Long Island, with the entire country. He wanted historians to give these people, this spy ring, the same acknowledgment that history gives to Paul Revere, Patrick Henry, Alexander Hamilton and the like. What those men risked in battle, these six risked in espionage; each knowing that at any moment, they could be hanged for their actions. He hopes to one day see teachers putting this book in their curricula, making Washington's Secret Six recognized by name.
Helping to share the story, the publisher has shared with us FOUR copies of George Washington's Secret Six to give to four lucky readers! Use the widget below to enter! Ends January 31st, 11:59pm.
[LisaB1]