Each week, until April, we will be highlighting the Top Ten Bloggers from each category of The 2013 Homeschool Blog Awards. We understand the hard work that is involved in running a successful blog. Kudos to all who were nominated, all who made the top ten and to our winners!
This week we are highlighting the 2013 Best Homeschool Blog Designs!
Best Blog Design
This was your chance to nominate a gorgeous blog design and give a code-and-design savvy blogger a pat on the back for her talent (or give her hired web designer some credit!).
Winner 2013 Best Blog Design
HomeschoolWays.com was our winner this year! Her clean, simple and beautiful blog was designed by Caroline Moore.
Top Ten 2013 Blog Designs
In no particular order: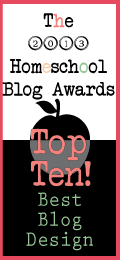 [Admin1]