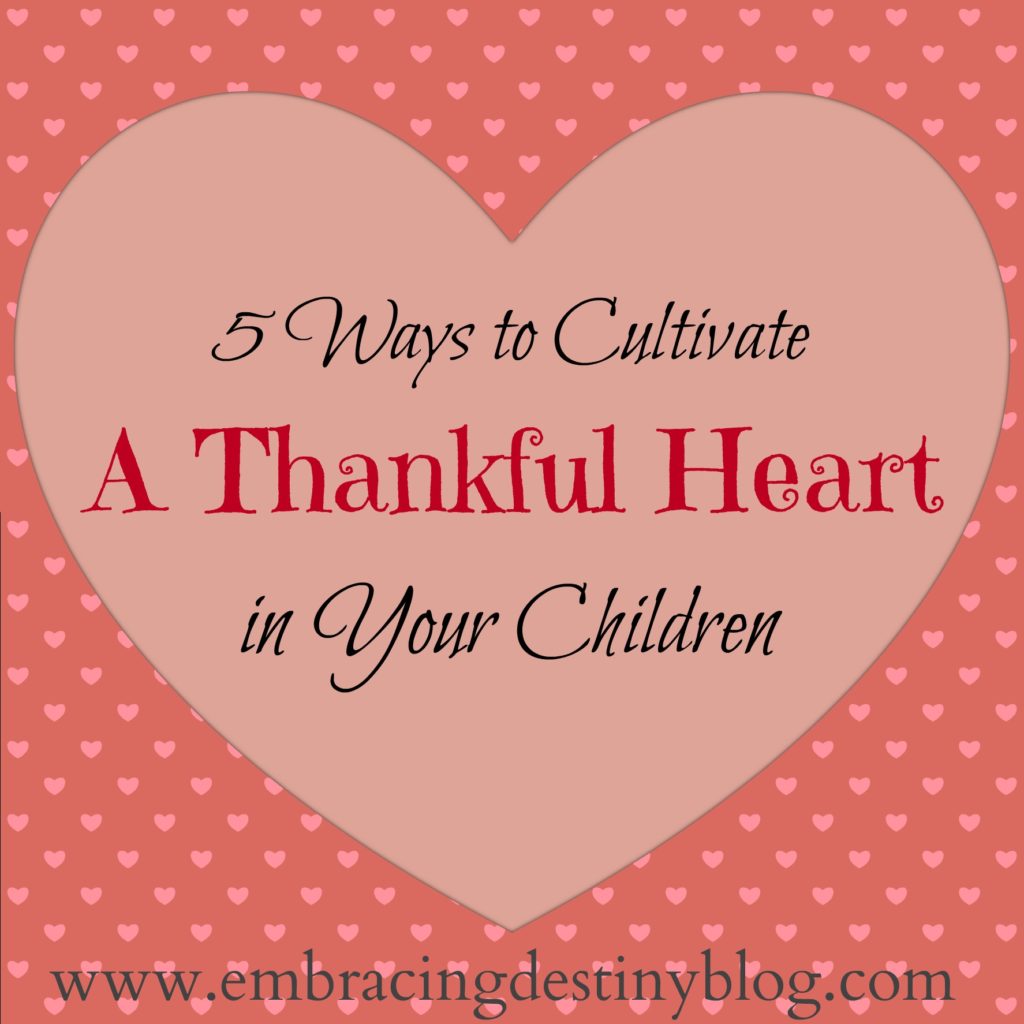 As we move past Thanksgiving and into the Christmas season of giving, our thoughts turn to counting our blessings in a meaningful way. It can be discouraging to see materialism and selfishness abounding in our culture, but even more discouraging to realize that we can see our own children (and ourselves if we're completely honest) taking everyday God-given blessings for granted. The only solution to this problem is to be intentional about cultivating a thankful heart, not just around the holidays, but throughout the year. This is an excellent time to start or to renew our efforts.
Here are some practical tips to teaching our children about gratitude:
1. Count your blessings, literally ~ Keep a blessings journal. We have used the My Book of Thanks printable keepsake journal, which was created by homeschool mom Heather Bowen of Upside Down Homeschooling. If your children are too little to do it themselves, help them talk about their blessings and write it down for them. Remind them that it's not just what we get, but what we give. Being a blessing to others should be a focus.
2. Memorize Bible verses about thankfulness ~ There are obviously plenty of verses to choose from, but here are a few that might be easier for children to memorize:
Psalm 69:30 I will praise the name of God with song, And shall magnify Him with thanksgiving.
1 Chronicles 16:34 O give thanks to the LORD, for He is good; For His loving kindness is everlasting.
1 Thessalonians 5:18 in everything give thanks; for this is God's will for you in Christ Jesus.
Psalm 100:4 Enter His gates with thanksgiving, And His courts with praise. Give thanks to Him; bless His name.
3. Give to others ~ When we give to others who are less fortunate, it reminds us to be thankful for what we have. Donate to your favorite charity, volunteer in your community, and teach your children to do the same. There are opportunities all around, especially at this time of year.
4. Praise and prayer ~ Part of teaching thankfulness includes teaching our kids how to pray. I've worked on giving guidelines and suggestions to my girls, but I emphasize that prayer is meant to be a personal conversation so they don't feel that there is a "cookie cutter" prayer. We try to remember to start each prayer with a word of thanks and praise. We also end each prayer that way. This keeps gratitude at the front of our minds, rather than just a laundry list of needs.
5. Be a good example ~ Okay, I will admit here that I struggle with this sometimes. I catch myself starting to complain about a bad day or too much work to do or another mess to clean up. I have to remember that my daughters are listening (even when I think they aren't!) and will pick up my attitude. If I want them to have a thankful heart, I must have one myself! Complaining and thankfulness really can't co-exist.
These are just a few simple first steps in cultivating a thankful heart in your children. Of course it takes an intentional effort to guide them every day. Grace and patience are also things to be grateful for, which are two qualities we need in good measure when building a foundation of thankfulness.
[Sara1]