Each week we will be highlighting three wonderful companies that have partnered with us for The 9th Annual Homeschool Blog Awards. This means they have graciously agreed to offer prizes to one or more of our winners!! Get ready to start nominating October 7th. Please take a moment to visit our great sponsors Math Mammoth,Tropical Traditions,and Doorposts!
Math Mammoth
Have you been looking for a fully reproducible math curriculum? Math Mammoth covers grades 1-12 and offers downloadable or printed options. They have free printable assessment tests, over 300 free samples, and an entire series of Make It Real Learning workbooks where Maria makes math applicable to your students life.
They have graciously donated:
Math Mammoth Light Blue Series Bundle – either  download or CD (winner's choice) – 2 prizes. Valued $136/$141 each

Math Mammoth Blue Series Bundle – either download or CD (winner's choice) – 2 prizes. Valued $99/$104 each

Math Mammoth All Inclusive Bundle – either download or CD (winner's choice) – 2 prizes. Valued $192/$197 each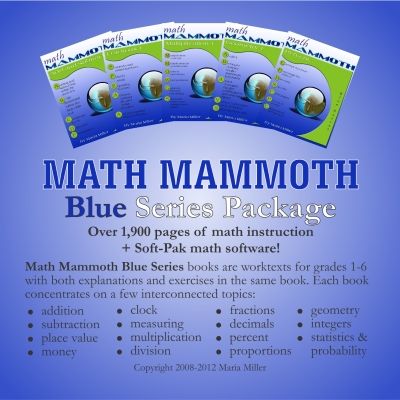 Math Mammoth Blue Series Bundle contains 35 books, plus five variants of the Money books, or a total of 40 books from Math Mammoth Blue Series – the self-teaching worktexts.
Math Mammoth Light Blue Series Bundle contains grades 1, 2, 3, 4, 5, and 6 from the Light Blue Series, and includes the supportive materials (answer keys, tests, cumulative reviews, and worksheet maker) for each grade.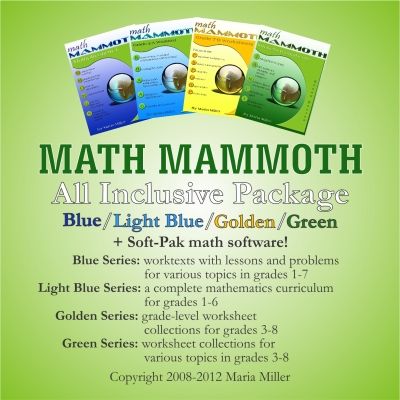 Math Mammoth All Inclusive Bundle contains all of the Blue series, Light Blue series, Golden series, and Green series books – ALL of Math Mammoth.
Tropical Traditions
Tropical Traditions was founded by husband and wife team Brian and Marianita Shilhavy. What began as a small company offering hand pressed coconut oil and organic foods has blossomed into an online store offering products from oil to pet food to appliances you can purchase with confidence knowing it goes beyond just organic or GMO. They diligently research to provide you and your family with only the best choices in food, supplements, and more!
You can find them on Facebook,  Twitter, Google +, and YouTube.
They have graciously donated:
1 quart of our Gold Label® Virgin Coconut Oil Valued at $40.00


Tropical Traditions Gold Label Virgin Coconut Oil is a truly unrefined coconut oil. This coconut oil is made on Mt. Banahaw and surrounding areas from organic coconuts. Coconuts are used fresh (within 24-48 hours of harvest) from small family farms on Mt. Banahaw and other rural places in Quezon Province, the coconut capital of the Philippines. Only the highest quality coconuts are hand-picked from each harvest. The volcanic soil of Mt. Banahaw makes these organic coconuts some of the most nutritionally rich coconuts in the world! Testing done in independent laboratories on coconut oil antioxidants reveals higher levels of phenolic antioxidants than other coconut oils. No chemical or high-heat treatment is used, and this oil contains no trans fatty acids. We do NOT mass produce this oil. It is made by families who are coconut farmers using old-fashioned traditional methods that have been used in the Philippines for hundreds of years. Our coconut trees and family producers are certified organic according to strict USDA standards. The families who produce the oil are also trained according to GMP (Good Manufacturing Practice) standards and re-certified each year. This high-grade Virgin Coconut Oil has a long shelf life due to the high antioxidant properties. The Gold Label Standard is our highest standard for Virgin Coconut Oil.
Doorposts
Doorposts is a provider of Bible-based parenting and character training materials. For 20 years, the Forster family has operated Doorposts, making character training easy!
Get to know them better on Facebook, Twitter, and their blog!
They have graciously donated:
10 copies of Thirty Days of Bible Study for Busy Mamas: Colossians 3 in print or PDF  Valued at $8 & $6



It's not easy, getting into the Word when your house is full of little ones who need you twenty-four hours a day.

But it's essential.

The goal of this book is to offer special encouragement and help to busy mothers who need the nourishment of God's Word in their demanding lives. 30 Days of Bible Study for Busy Mamas: Colossians 3 will help you slow down and really study the Bible, even if you can only study for a few minutes at a time.

Here is a simple but deep approach to Bible study, divided into five-minute portions that will leave you encouraged and excited as you discover that you can study the Bible, even when your house is full of children!

So here's the challenge: Set aside just five to ten minutes a day – even if it's just one minute at a time – to study the Bible. This book will help!

Includes thirty days of Bible study directions in Colossians 3, plus extra sections like:

Ideas for marking in your Bible
How to make time for Bible study when you have small children
How to study more on your own after you finish the 30 days in Colossians 3

This study started as a series of posts on Pam's Doorposts of Your House blog, where she discovered other busy mamas who were looking for simple but meaningful Bible study. If you aren't sure where to start, or if you don't think you have time for Bible study, this booklet will get you started!
Thank you Math Mammoth, Tropical Traditions, and Doorposts!
Do you have any of their products already in your school room? Which ones? Do you have any questions about their products? We would be happy to get you answers!
[Admin1]