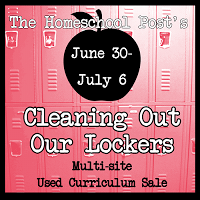 It's time!
Are you ready to SHOP?!
All dressed?
Ah, who am I kidding? You don't need to change out of your PJ's for this used curriculum sale!
These ladies (and, ahem, gentleman) have a combined experience of more than 90 YEARS as homeschooling parents! Some of us have, er, accumulated a lot of extra used curriculum and "stuff" over the years.
Updated 7/7/13: The Locker Sale is now closed, but you may still be able to contact the list owners about sale items.
It's time for us to clean out our lockers!
Take a wander around, check out some of the highlights listed at each member's table, and click on their blog names to dive into their sale lists.
Lana
at
I Love My Five Kids
  has 
Readers
, 
Total Language Plus  
and the related books
,
and 
Saxon Algebra.
Sara 
at 
Embracing Destiny
  has the 
Handwriting Without Tears Kindergarten Program
 ~ Teacher's Guide & Student Workbook;  
Building Thinking Skills Primary; Educating the WholeHearted Child
  by Clay & Sally Clarkson; and 
AIMS From Head to Toe 
 science activity book and CD-rom with printables.
Shannon
at 
On This Glorious Homeschool Journey
has 
Math-U-See Alpha
set (student and teacher);  
Math-U-See Skip Count CD and Book;  Spell to Write and Read
Lowercase Sandpaper Letters;  and 
Managers of Their Homes.
Lisa  
at
The Homespun Life
 has the 
Math-U-See Beta
  Teacher's book and ((NEVER OPENED)) DVD instructional video, and  MUS
Stewardship
  Complete pack.
Angela
  over at
Raising Autodidacts
  has the FULL
2008 version of Robinson Curriculum Self-Teaching Home School Curriculum  
and
Saxon Math 5/4 with Answer Key.
Renee
  at
Great Peace Academy
  has THREE of Dave Ramsey's
Financial Peace Junior
  Kits (New), a Set of 5 Caldecott Honor Books, a 
Micro-Science 69 Piece Microscope Set 
 AND much more!
Dawn 
at  
The Momma Knows
has
KONOS Volume 1 
,  Apologia 
Exploring Creation Through Botany  
student text & notebook journal,
Winston Grammar Basic set
,  and
English from the Roots Up
  as well as a long list of even more goodies.
Lisa
  at
Chaos Appreciation
  has
Story of the World,  Life of Fred,
  and
Homeschooling the Wholehearted Child.
[DawnP1]