Admit it. You're already looking. This year's books may still be sitting on your dining room table, but so are the catalogs.
You know those catalogs.
The ones that draw your eye in mid-winter, when your kid's favorite song is "I'm borrrredddd," and so are you. The colorful curriculum catalogs that come in stacks during the spring and summer, usually right after you order something and make you second guess your choices.
But they also give you hope for the future. New ideas. 
If only all of that curriculum weren't so darn expensive!  We, the staff of The Homeschool Post, have a solution.
Coming very soon, we're going to have our very own (gently) used curriculum sale! All you'll need to do is come here on June 30th and visit each person's 'table'. We'll have highlights listed for you and links that lead to their list posts.
Simple. Shop in your PJ's. There's no judgement here.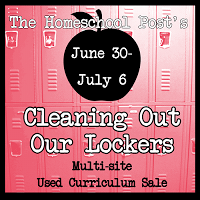 [DawnP1]