Sometimes the pressure within to write about a certain subject becomes overwhelming to me…and I feel as if I will burst if I don't put my thoughts down in concrete form. This is one of those moments.
But it is also a moment where I wrestle with my desire to write about a serious subject. My children are growing up and gaining their own voice. They have their own stories to tell, and when it comes to writing about more difficult matters of parenting and homeschooling, I don't quite know how I feel about leaving digital footprints for them to find at a later time. In other words, I'm scared. I'm scared of what their reaction might be one day to the feelings and words I wrote "once upon a time" regarding their struggles in life.
But if I'm true to myself, I feel like this topic needs to be discussed and shared with other moms who may be going through a similar battle now or in the future.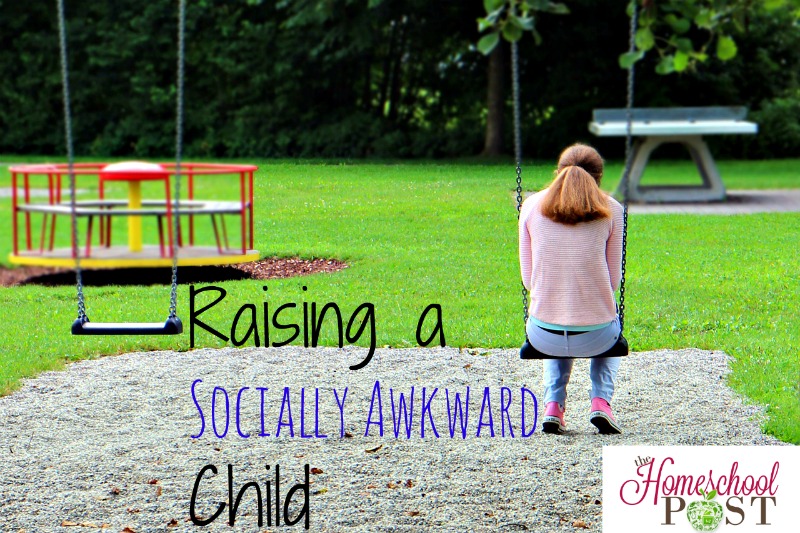 Today I'd like to talk about raising a socially awkward child.
Trust me, even typing the words "socially awkward" brought me pain. I fear the term itself is too judgmental or too harsh. But, it is accurate, I think…at least for our child.
I am the mom to three wonderful, precious, lovely children. Like any other kids on the planet, they are each unique. They are gifted with different talents and each of them have their own personal struggles. But as life would go on this sinful planet, some burdens are harder to carry than others.
My oldest child struggles with social skills and making friends. She's twelve now, and in the throes of adolescence. She is learning, in very painful ways, that life can be cruel and people can be mean. This time of life is hard for any child, but it's especially difficult for the socially awkward child.
She has struggled her entire life with being social and dealing with social situations. At a few junctures, we tried to put a label on it. We visited several child psychologists & therapists and we were given a different answer and diagnosis by each. I won't go into details about that to protect her privacy, but let's just say it was not a pleasant process for us.
One doctor in particular just wanted to prescribe her a combo of medications to adjust her personality to fit societal norms. We reluctantly tried it. It was, I think, the worst decision of my entire motherhood career. For weeks, I watched my child slip away from her creative and sweet self, into a quiet, dark, and isolated world. She was flat. Without emotion.
We decided we'd take the social awkwardness over her drugged and coma-like state any day of the week. We promptly stopped medications, and thankfully, our daughter's sweet personality came back to us. I'm not saying medication is wrong. It was just not the right path for us, especially the kind of pharmaceutical drug our "trusted" provider was endorsing.
Because of her problems with being social and making friends, she has been bullied, harassed, and made fun of. I could tell you about a thousand stories, but I don't have the space here. Let's just say we've endured lots of taunting, name-calling, online bullying, and face-to-face meanness. Through all of it, she has endured. It has made her, and us, I think stronger. I would change it in a heartbeat if I could, but alas I cannot. So I look for the silver lining.
I share all of this with you because we live in a day and age where the socially awkward child is quickly labeled and judged by others. We want to fix everything. But some things aren't to be fixed, or aren't broken to begin with. Instead of fixing everyone else's children, we need to focus more on our own. We need to focus on making our children more compassionate and loving. We need to teach our children that everyone is unique, different, and the best way to get to know someone is to meet them where they are.
I've spent the better part of twelve years fighting stereotypes about homeschooled kids. I've tried to get neighbors, strangers, and even friends and family to embrace my child for who she is. Some have, but many have not. For those that cannot, or choose not to accept her different-ness, I've had to learn to make peace with that. I've walked away from friendships and even from a few family members who think putting her in "real" school would fix all of our problems. (For the record, she did attend public for 2 years and it only exacerbated her social problems.)
I guess the entire point of my rambling can be summed up by saying – my child *IS* the "weird homeschooled kid" society loves to joke about. The problem with a joke is, someone or something has to be the punchline. The moral of my story is to keep being diligent. Keep fighting the stereotypes. Keep the faith. Keep loving your child for WHO they are. Embrace their unique personalities and respect others who are also fighting a hard battle.
[Lindsey1]