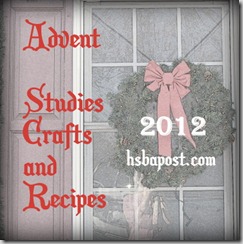 After posing a question on Facebook Monday asking you about your plans for Advent, we thought it would be fun to post about the suggestions you gave us.
We've added a few extras and we invite you to leave a comment sharing with us any posts you have about Advent.
Studies:
Last year, we posted about The Jesse Tree, a devotional eBook from Ann Voskamp and Nancy Rodden. Still a favorite!
Truth in the Tinsel
Buckner Advent Guide
24 Days of Christmas Books – This isn't so much a study, but it didn't fit with crafts or recipes so here it sits. Wrap up 24 Christmas books and read one each day.
Calendars:

Precious Moments
Legos
DaySpring

World Vision.org still has their older Advent studies listed as well as their new one "Anticipating the King"
The Thoughtful Christian has several Advent resources available (can be purchased or free with subscription)
Faith and Worship offer several Advent Bible Study guides.
Vibrant Faith just posted a list of their new Advent studies on their blog. A little bit of something for everyone in the family!
Home Educating Family Association's Professor Carol has a cute Advent workshop this year. Sign up to participate in their online advent calendar.
Crafts:
Recipes:
Primal Kitchen has a pretty awesome series on Real Food Advent Recipes (the first one is Coconut Manna Cups!)
Big Red Kitchen starts of their Advent Recipe Series with Christmas Coal.
Ecosalon shares the Swedish tradition of Advent Pepparkakor {Gingerbread cookies} (complete with how to make a Gingerbread house)
Do you have an Advent tradition? Please share with us in the comments!
[LisaB1]