I love crafting. I really wanted to be one of those homeschool moms that does something fun and crafty with her kids every day. My dislike of glitter on the floor and complicated projects that leave me doing most of the work is just part of the reason our craft sessions are few and far between.
When you're looking at the sweet pictures below, just remember these are the ones that DON'T have the two year old tiny torturer throwing leaves in the air and stepping on his sister's sticky paper. Our 4-year-old would have participated had she not been napping.
For mom, this craft was quick, fun, and cheap. For the kids it was "way cool mom!"
Leafy Place Mats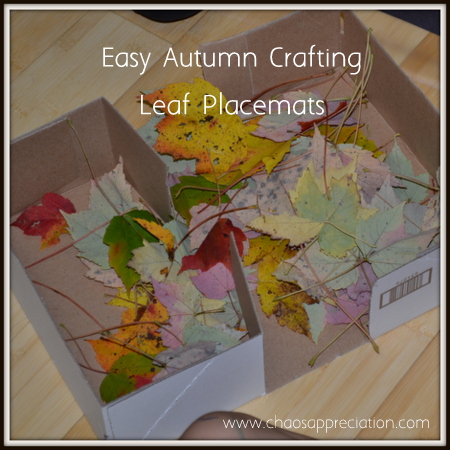 Supplies
Leaves
Construction Paper (the big sheets)
Clear Contact Paper
Scissors
Directions
Send the kids out with a bag, box, or basket and instructions to find only the coolest looking leaves imaginable. If they come back before you're finished with your cup of coffee, send them out to find a particular color or shape to stall them. (This is where I should have put in some sort of unit study on leaves or trees or autumn but I really just wanted to finish my coffee).
Cut a sheet of Contact paper for each mat, slightly larger than your paper.
Pull off the backing and lay the Contact paper sticky side up.
Place your construction paper UNDER the contact paper. This serves as reference for where to place your leaves.
Let the kids come back in, if you haven't already.
PLACE LEAVES UPSIDE DOWN ONTO CONTACT PAPER. Otherwise your mat will show the back side of the leaves when you are done.
Once all the desired leaves have been placed on the paper, pull out your construction paper and place it on top of the leaves. Press gently, working from center out.
Cut another piece of Contact paper. I prefer to peel away the end of the backing, stick it down, have a kiddo hold that end, and then slowly pull the backing off while applying it to the bottom piece. Cover the back of the project with the second sheet of Contact paper.
Work out the bubbles as best you can.
Press around edge of paper to make sure there is a good seal and trim the edges.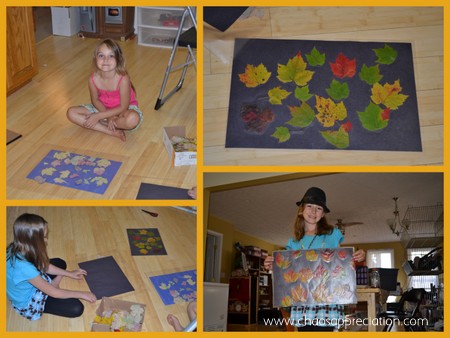 Do you have an easy, go-to craft for fall?