How does a kid go from from having the attention span of a distracted gnat to an active game player? Baby steps!
ThinkFun has created Roll & Play, a "my first game" to start your little one out to becoming a regular part of family game night.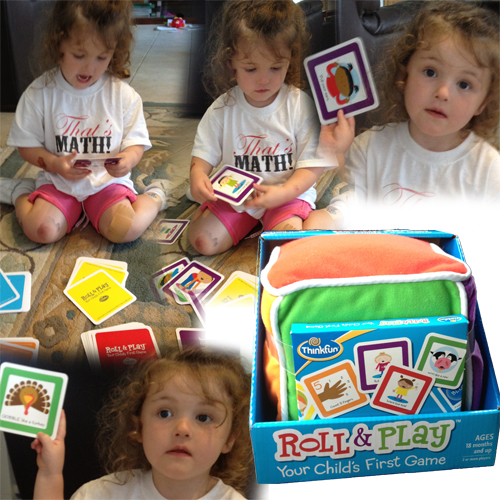 Roll the die!
The die in the Roll & Play game is a large plush cube. Each side is a different color. Players roll the die and then draw a card of the same color.
This seems lame to older kids and grownups. But consider what you have to know in order for the die rolling to work.
When the die stops, there are five sides showing and one hidden. You have to know that you're focus is on the side that is face up. Rolling the big die teaches little ones that the top of the die is the indicator – not one of the sides facing him or her.
Read the card!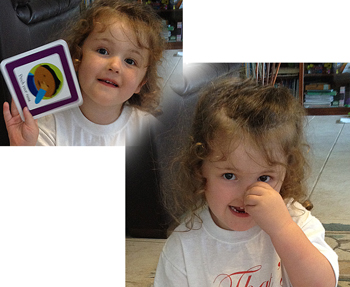 Each card has an activity on it. The pictures are sufficient for little ones to know what to do.
When they "read" the card, they get to do the activity. To keep them engaged, you can have them read the cards to the other players.
And then they get to pass the turn to the next person – another important game playing skill.
Play, do, and change the rules at will!
When you play Roll & Play, you'll be hopping around, dancing, making animal noises, and having a great time. And if you want, you can adjust the rules to fit your little one.
We started out by skipping some of the cards. They just weren't as engaging as the others. We'll work around to getting to all of them.
Your turn!
How have you integrated your little ones into game play? Would your toddler do well with ThinkFun's Roll & Play?
Share your thoughts in the comments and tweet this out!

P.S. I got the Roll & Play game for free on accident. ThinkFun meant to send me another game and accidentally shipped this one. I refused to return it, promising instead to enjoy it and write about it.