If you do a lot of reading (and I do) about the learning process, you will come across statements and studies that suggest "the basics" (reading, writing, and 'rithmetic) can be learned in one hundred hours.
Lest you think this crazy talk let me clarify a few things.
First of all, the participant (i.e. student) must be willing. I don't mean to suggest that you prop a five or six-year-old up at the table, hit the timer, and start a conveyor belt system of information delivery. My oldest was four when he started to read simple words; my youngest seemed to struggle to grasp phonics until he turned six. I clearly remember sitting at the table with him, spending no more than 15 minutes a day on mastering the sounds of the English language. It seemed this went on for years, not months, and then, magically and beautifully, he began to read. He is a strong reader, albeit a reluctant one, but his vocabulary and ability to articulate ideas is beyond reproach for someone his age.
Luckily, by that time, I had begun to understand how different children learn best, and if he had not read until seven or eight, or even nine years old, it still would have worked out just fine.
At the same time a child is learning to read, they can also master very basic skills in writing and math. Good writers come directly from good readers. An avid reader will become a competent writer in much shorter order than a person who rarely cracks a book. Math concepts can be learned from playing games, logic puzzles, or incorporating basic math into your everyday life. It doesn't have to be relegated to a boring, black and white timed drill existence.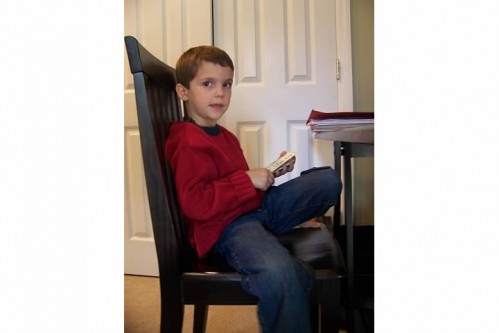 When a child is willing (and ready) to learn, he or she will learn, and it will take about one hundred hours to command the basics.
The next part of this is crucial, and you must understand that I am not claiming that after one hundred hours of study an individual no longer has anything to learn, rather at this juncture, an individual is ready to self-teach.
As a home educator, your role has just begun.
Providing and facilitating an environment that will stimulate a child's natural curiosity is key. This means turning off the television and limiting, or excluding, video games and other media at least until a certain hour of the day — allowing exposure for small bits of time. If a child is presented with a contemplative and peaceful environment, he or she will seek out ways to fill the hours that will ultimately contribute, not detract, from their journey of self-education.
Being in tune to what your children are interested in and finding books and opportunities for them to further explore these areas can be a joyful process that you undergo together. My oldest is passionate about the solar system and Greek mythology, something I only had a cursory understanding of until he introduced me to facts, concepts, and stories that have enriched my own intellectual growth and development as an adult.
You can certainly choose to follow a curriculum if that makes you feel safer and more confident, but now in my thirteenth year of homeschooling (I maintain that we have home schooled since birth), I have found that good readers, decent writers, and solid math students can propel themselves to the next level of knowledge; no coercion, no timers, no conveyor belts needed.
I would like to leave you with a brilliant quote from the book Dumbing Us Down by John Taylor Gatto. For me, this sums up everything I have learned about education to date.
Whatever an education is, it should make you a unique individual, not a conformist; it should furnish you with an original spirit with which to tackle the big challenges; it should allow you to find values which will be your road map through life; it should make you spiritually rich, a person who loves whatever you are doing, wherever you are, whomever you are with; it should teach you what is important: how to live and how to die.