Three of my favorite math products, MathRack, The Ultimate Puzzle and Math on the Level  are not on Twitter yet. It occurred to me that perhaps the reason they aren't is because they don't know how easy it is to sign up.
If you're like the MathRack, Ultimate Puzzle or Math on the Level people, with or without a product, and haven't made it to Twitter either, here's the super easy guide to getting there.
1. Go to www.twitter.com.
Open up your favorite browser and head to the wonderful world of Twitter. Conveniently, the name of the service is the same as the url.
Head to www.twitter.com, now!
2. Put in your info.
In the box titled "New to Twitter? Sign up," put in your name, email address, and a password. Your name will be show publicly, but your email address won't.
If you're signing up for a company, you might use the company name. As an example, I've signed up for a Twitter account for my dog.
3. Pick your handle.
Now you get to pick your Twitter username, or handle. Twitter will pick one for you, but it's likely not the one you want.
If you want to change it, type over what they've given you. Twitter will quickly tell you if the username is available.
You can't have the same handle as someone else, so you might have to try a few times.
Also, you can change the handle to something else later, so don't get too hung up on picking the world's best handle right away.
Here are some basic tips on choosing a Twitter handle:
Keep it short. You only get to tweet 140 characters at a time. If someone wants to mention you and you have the Twitter handle SuperCoolRockinHomeschoolMom, you've just eaten up tons of their usable characters.
Avoid fancy characters. Even though you can use the underscore, it's hard to type. People won't want to mention you if they have to always do the shift+pinky underscore character. Stick with plain letters.
Don't use numbers unless they are way obvious. My first twitter handle was @bonster713. The original area code for Houston is 713. But not many people know this. So I've ditched that handle. If, however, you are someone like @Loving5Kids, then the number is perfect for you.
Use your name or company name. Various people have different opinions on this. I tweet from @MathFour but keep @BonCrowder as a Twitter account in reserve. That way if I decide to sell MathFour.com someday (highly unlikely, but possible), then I can sell the Twitter account along with it. Plus I'll still have my regular name as a Twitter account.
Make it easy to remember. If you're name is Stacae Griegaoer, pick something else. Like CoolSG or MomSG or TheStac. There's no way anyone outside of your immediate family will remember how to spell Griegaoer. And many folks will have difficulty with Stacae. (No offense if your name really is that.)
Use caps and/or lowers. Twitter handles aren't case sensitive, so if you're handle is @mathpsych, use @MathPsych so we can quickly see that you're about math and psychology.
4. Follow some folks.
When you're done with your handle and other basic info, you'll be taken to a Twitter tutorial. It'll invite you to follow some people.
Put in a username or real name to find someone particular. For example, you can find and follow me: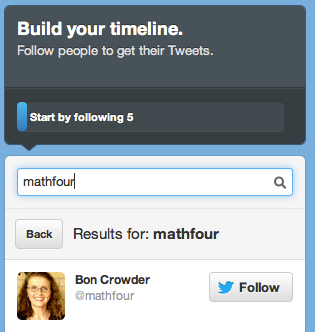 Or you can find people by searching for common interests:
5. Put in a picture and bio.
You can skip some of the steps, but don't forget to put in a picture and bio. Many people won't follow someone if they don't have a picture and/or bio.
It's pretty easy – use a recent or fun photo. Or you can use your 4th grade school picture or a picture of your children. You can even use your branding, if you're registering as a company or blog.
Put in a bit about yourself in the bio. Mention your website and anything else you write on or about. You can include other tweeters (relatives, organizations, blogs) as well as hashtags that you frequently tweet on. (I'll explain more about hashtags in a later post.)
6. Use the tips.
For a while Twitter will give you little pop up tutorial things. Click on the question mark thing to get an idea of various ways to use Twitter.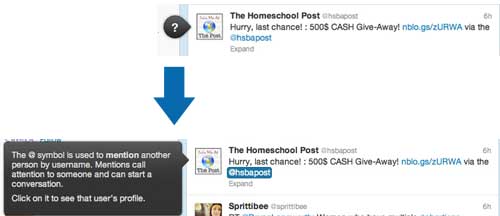 7. Have fun!
Now when you log in to Twitter, you'll see a timeline of what all the people you follow are yapping about.
Read, tweet, and have fun!
And look for more Twitter tips here over the next few months!
[Bon1]