I've blogged about it here at The HSBA Post. I've written about it on my own web-site, Raising Autodidacts — how to raise an independent, self-taught individual. But what about raising a self-sufficient child. What is the difference?
By definition, self-sufficiency simply means the ability to provide for oneself without help from others. Whether it's because I homeschool (I'm focused on facilitating their education) or whether it's simply my own personality, until recently, I have had the tendency to expect little from my boys in the way of self-sufficiency.  Because I only have two children, and because I like things done a certain way, I tend to step in and deny them the opportunities to become more self-managing.
Please note I used the word "deny" in the previous sentence. If Mom takes care of every little need, what benefit are we ultimately providing? My homeschooling "sisters" with larger households usually figure this out pretty quickly — everyone pitches in, or very little gets accomplished in a timely manner.
My oldest is twelve. Here are several things he is expected to generally do on a daily basis.
Make his bed
Pick up his dirty clothes (and preferably get them into the laundry basket)
Take out the trash whenever he is asked (without complaint)
Bring the garbage cans up the driveway after they have been emptied
Check the mail
Help carry in groceries if needed
Take his dirty dishes into the kitchen (we're not batting a thousand on this one yet)
Watch his brother responsibly (no fighting!) when needed
Prepare his own drinks and snacks (and get some for brother, too)
Water the neighbor's outdoor plants and feed her fish when she is away in the summer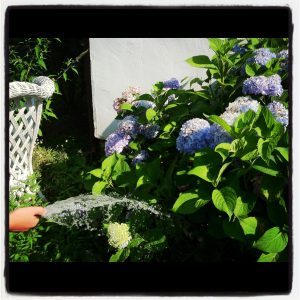 These are the absolute minimum tasks that we have come to expect. Also, over the past year, he has become something of a stellar pancake maker. With minimal supervision, he can now turn out a batch of perfect chocolate-chip pancakes. We still have to work on the clean-up, but that will come.
My nine year old does not have quite as many responsibilities yet, although his list has started to grow. That is something we have to be careful about, as we all tend to cater to the youngest in the family! We often joke with him, "How did we all end up working for you?"
I would love to hear in the comment section what day-to-day things are expected of your children and whether or not you pay them an allowance. We do not pay allowances, as our boys tend to get plenty of cash from friends and extended family for birthdays and holidays. They are not permitted to spend their money, unless it is something we have discussed as a family and find practical or otherwise useful. If they want something more frivolous (which is rare), we talk about it and occasionally purchase it for them.
If you raise an independent learner, a self-directed, self-taught individual, but fail to equip him with the basic ability to take care of himself, you have negated the mission. I have made a conscious effort over the last few months to delegate more mundane, do-able tasks to my two boys, even if it means it won't get done as perfectly or as quickly. I'm willing to sacrifice a little bit of perfect so that one day my sons will be self-sufficient young men.