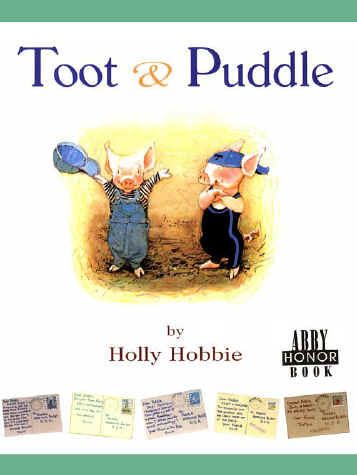 This is a super cute book about two little pigs, Toot & Puddle, who live together in Woodcock Pocket.  Toot wants to travel while Puddle would rather stay home.  Toot travels for a year and all the while sends Puddle postcards telling of his adventures.  In the meantime, we see what fun Puddle is up to at home.  In the end, they are reunited and celebrate their year's worth of adventures.
Play date with a friend!  Toot and Puddle are best friends and enjoy having lots of fun together. Kiley and her friend, Greydi, went to Causey Lake where they had fun throwing rocks in the water and playing with our dogs Woodi and Ella.  Then we picknicked in the back of the truck with a beautiful view of the lake. We ended with a mile hike on Indian Trail and playtime in the river.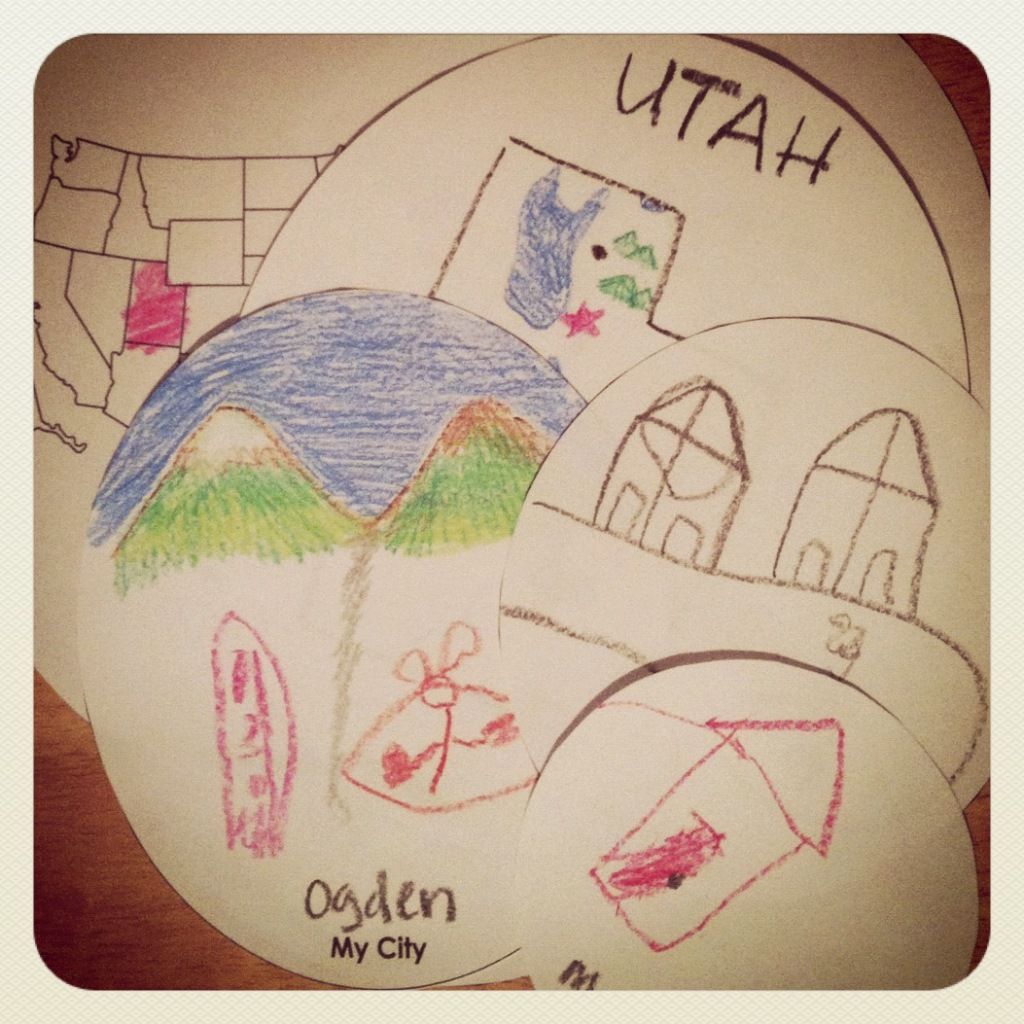 Geography: Where I live!
  Homeschool Share has an
excellent printable
for this!  You can print and cut out different size circles, then have your child draw on them: your house, your street, your city, your state, your country, and your continent.  It really seemed to help Kiley have a better grasp on where she lives.  She also learned where her other family lives in Texas, Louisiana, and Mississippi.
Make a Toot & Puddle puppet!  Kiley made a Puddle puppet, and I made a Toot Puppet.  We made them with brown paper bags, construction paper, and crayons.  Kiley gave Puddle a rainbow colored belly and a cute swirly tail in the back.  We decided to play with our puppet pals by acting out pages from the book.
Ways to travel!  Toot traveled all around the world.  Kiley thought up different ways of traveling.  By car, airplane, boat, or train.  We went to Union Station, here in Ogden, which hosts an old train museum.  We spent about an hour running up and down the trains and climbing all over them.  Some are very old; one that I found had a date of 1925 on it.  Others were fairly new, like the Olympic train.  We climbed inside a couple of the trains and sat on the conductor's chair.  The hospital and postal train were locked, and you could pay to take a tour of it.
Postcards!  Toot made sure to keep in touch with Puddle by sending a postcard of the places he visited.  The train station had a bunch of 25 cent postcards.  We nabbed a few and talked about what all goes on a postcard.  Then we went home and wrote out a bunch to family members.  In return, Kiley has received some postcards from all over the world and is starting a collection!
Hi, my name is Christina.  I am married and have a daughter.  I'm also a stay at home mom and we just completed our first year of homeschool!  My family and I love the outdoors.  We go hiking, mountain biking, camping and fishing.  We recently moved from Texas to Utah and I enjoy so much living in the mountains.  I love to draw, write stories, cook from scratch, learn about other cultures and travel. You can visit me over at Homeschool Jabber.