I love BOB BOOKS. They are cute, simple readers that are perfect for little ones to start that adventure of knowing how to read.
BOB BOOKS now has some fun, new early readers. These are full-color stories that help launch your child from the simplicity of early reading to the next step.
Discover  NEW Bob Books Early Readers – now in a bright new format! These 32 page, full color stories are just right for your reader who knows the basics and is looking for fun, easy-to-read stories.

Meet siblings Jack and Anna, the two newest characters in the Bob Books family. Jack and Anna have many gentle and humorous adventures together, from getting a new puppy, to learning to ride a bike, to making surprising cupcakes. Your youngster will love reading about Jack and Anna's funny family adventures.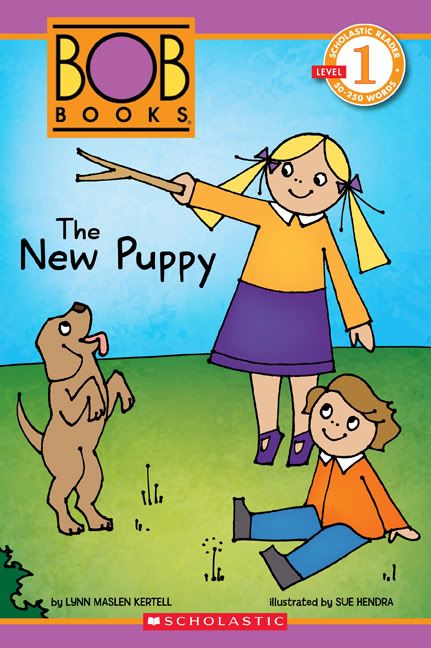 The first two books in the BOB BOOKS Early Readers series are The New Puppy and Cupcake Surprise. Centered around two children, Jack and Anna, these stories encourage children to try out sentences, practice their phonics, and learn the importance of stories. At the back of each book are flash-cards that have a word to say on the front and a picture with the word used in a sentence to reinforce the context of the word and where the word belongs in a sentence on the back.
My children and I like the cute illustrations. The younger ones got a kick out of the way Jack and Anna's cupcakes were made. My beginning reader enjoyed having a harder book to read, and even my three-year-old sat down to imitate the words.
The New Puppy and Cupcake Surprise are out now, with four more due to come later this year:
Outdoor Adventures (coming Summer 2012)
My School Trip (coming Summer 2012)
I Can Ride! (coming Fall 2012)
Buddy to the Rescue (coming Fall 2012)
*THIS GIVEAWAY IS NOW CLOSED – Congratulations to Stephanie!*
Would you like to win The New Puppy and Cupcake Surprise to give to your beginning reader?
All you have to do is leave a comment with your email address included. That's it! Easy-peasy, right?
*Rules*
One comment per person
Must enter by April 3, 2012, 11:59 PM
Winner will be chosen using random.org and notified via email.
US shipping address necessary
Void where prohibited

Note: A complimentary set of books was received for our honest and unbiased review.