This post is part of our monthly series highlighting books and activities from the Five In A Row (FIAR) curriculum.
When I opened Katy & The Big Snow by Virginia Lee Burton to find some math, I was shocked. I didn't have to look far at all – it was everywhere!
Math is disguised in all sorts of fun places in this beautiful book!
Katy includes graphing!
The book starts off with the map of the city. Maps are graphing.

And when the city is shown on other pages, if the orientation is different, a compass is shown to indicate direction. The compass represents the x-axis (N/S) and y-axis (E/W). It also shows the 360º in a circle.
When Katy (the tractor) is introduced, you can see lots of symmetry – especially in her big snow plow. Symmetry is another important concept in graphing.
Factors and multiplication are in the book.
Katy's features are outlined in the margins and include her horsepower. Instead of merely writing "55 horsepower," Burton illustrates it with 55 horses, and they are counted in 5s.
Skip counting like this shows factoring as well as multiples (which are used in finding the GCF and LCM – remember those?).
And Burton doesn't just stop at 5 and 10, she illustrates and counts all 55 horses.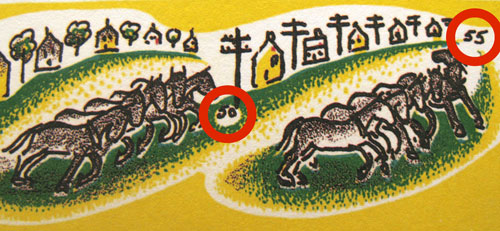 (Note: I put the red circles on the images.)
So when you read Katy & The Big Snow with your children – you can support their math learning by seeing and saying the math in the pictures!
Share your thoughts and experiences in the comments!

Related articles