You can't force people to leave comments, although every blogger would love to. It's annoying if you're just getting started and nobody comments. But after awhile you just get used to it.
Well… you kinda get used to it.
Okay, you never get used to it.
Make it easy.
If you have a blog, you're competing for attention. Your readers have a bazillion other things to do.
Which means to keep them reading – or commenting – you have to make it ridiculously easy.
If your readers use your RSS feed, they have to make a special effort to get back to the site and comment. Which means, they have to
Think of something to say
Scroll back to the top
Click on the title
Wait for the page to load
Scroll to the bottom
Comment
Wouldn't it be great if they could
Click on the word "comment"
Wait for the page to load
Comment
Remember, every step and every click is an opportunity for your reader to stop. Think about how you do things online. Too many clicks and you're done. They are the same way.
So how do you make commenting easy?
First, ask them.
If you've ever been married to a man, you know that they can't read your mind. And, in fact, only your best friend can read your mind. And that's on a very, very good day.
So if you want your readers to comment, don't expect them to read your mind. Ask them.
Write an action item at the bottom of the post. Here are a few good ideas to start with:
What do you think? Share your thoughts in the comments!
Did I leave something out? Tell me in the comments.
Have you experienced something like this? Share your story in the comments.
Know anyone like this? Tell us about it in the comments. And don't mention their names!
What do your kids do? Share it in the comments.
Do you disagree? Let me know your side of the story in the comments.
Have you written something that fits? Share a link to it in the comments!
Have an example of this? Link to the story or picture in the comments.
You've given your readers both what to say and specific instructions on how to say it.
Then make the clicking easy.
Notice each of the comment prompts above have the word "comments." This is an ideal place to put a comment link.
Save your draft:

Now click on "Get Shortlink."
Copy the stuff in the box and press okay.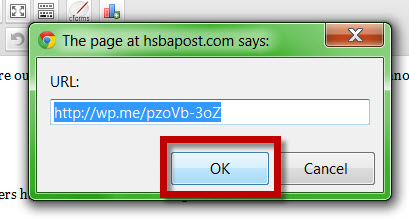 Go to your final line and highlight the word "comments." Click on the link icon.

Paste the shortlink in and put "#comment" right after it. Click "Add Link" to finish. Don't forget to save/publish/update the post!
Sit back and wait for the comments to come flowing in!
Okay, this won't make your comment numbers huge, but it will make it easier for readers to comment. And that's the point.
When someone reads the RSS feed, here's what happens:
They read the comment prompt and know exactly what to write.
They click the word comments.
They are taken directly to the comment section.
They comment.
Ridiculously easy.
Yay.
Whatcha think?
Do you like the idea of making commenting easier? Will you do it? Tell us about it in the comments!
UPDATE: Information on doing this in Blogger is in the comments below – click here to go right to that one.