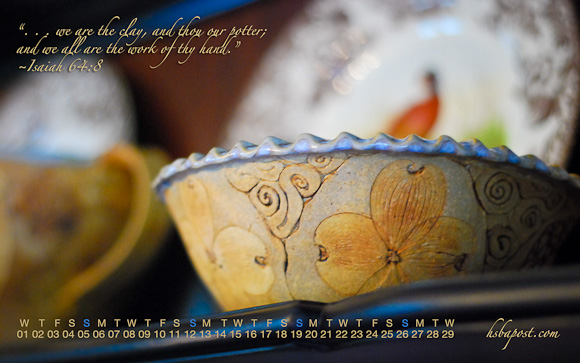 Did you feel it? You may not have noticed when you turned that corner from first semester to second—there was probably a lot of celebrating and shopping and eating going on at the end of your year—but we're firmly planted in the final half of the school year. Now is a good time to work hard before distraction arrives and spring fever pulls both mother and child.
Think about the verse in this month's desktop wallpaper:
". . . we are the clay, and thou our potter; and we all are the work of thy hand." ~Isaiah 64:8
Don't be confused: you're not the potter and your child the clay, God molds your child just the same as he does you.
Be thankful for the precious lives He's blessed you to touch—nurture and teach them—but remember that there's One who loves them even more than you do. Train your children (and yourself) to rely on His guidance.