Carlito C. Caterpillar's Math House Games card deck is a handy, easy to read and use set of 40 games supporting children's learning of quantity, numeration, and operations.
The single-ring bound deck starts with a few cards of grown-up reading. These include six myths and realities of early mathematical learning. Carlito and his crew have got their act together! My favorite quote is in "Reality 5″:
Equally important for early mathematical learning is adult math-talk or math related verbalizations.
And fabulously, this deck also helps grownups see math everywhere – and say it out loud!
The Games
The games are short and can be integrated into daily life. They are perfect to include in your Count 10 Read 10 routine everyday.
I read through all the games, and I found that I was emotionally attached to these two: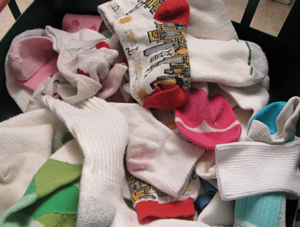 Game 1B called "Alike It or Not" uses sock matching to build the concept of "two items." It also enforces pattern recognition and builds a sense of quantity. Plus it garners some help from your family doing the laundry!
My mother used to get us to "play sock" when the basket of unmatched socks got too full. We would take turns blindly pulling a thought from the basket. When you achieved a match, you screamed in your loudest voice, "SOCK!"
Game 14A called "Jump and Skip Count" employs physical movement and a large visual number path. You can do this with paper or outside on the concrete with chalk.
Before I read this, I had already created a number path down our hallway by cutting up some removable, peel and stick dry erase wall coverings and using a sharpie to create the numbers. The Doodle is only two years old so we're working on regular counting before skip counting. And the number path gets her to do all sorts of interesting things!
What else can you do?
The ring that holds these together is removable. There are 20 game cards and, depending on your neighborhood, these might work really well as Halloween handouts. Use these cards instead of candy!
There are also some nice resources that go along with the deck. For the games above here are the links: (Note: these are rather big .pdf files, so they might take a minute to fully load.)
And if you want to reward achievement, download a certificate for each stage!
So get a deck!
The deck is $23.95 and that includes shipping. Buy it on their website and make sure to tell them how much you love it on their Facebook page, or tell us here in the comments!

Disclosure: I received one of these at no cost so I could review it here. Note that I only recommend products and services that will be of use (and are mathematically sound) for you, the reader. 
Related articles