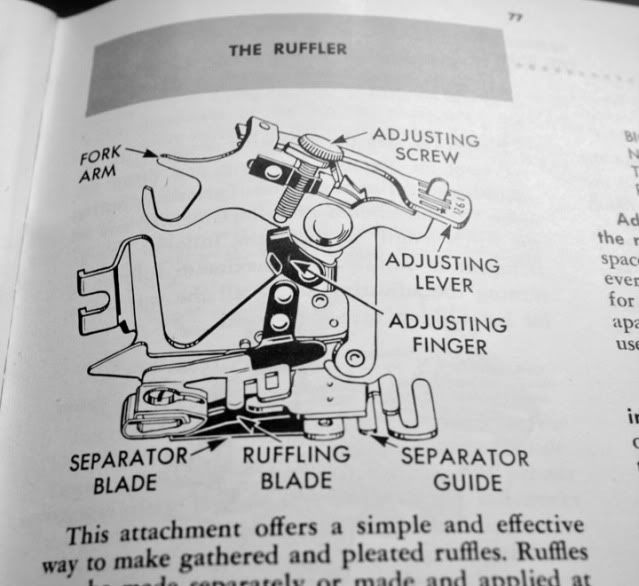 I love to sew and currently in my possession is a lovely old Singer Slant-o-Matic 403 Special sewing machine. It's the machine my grandfather bought for my grandmother, brand new, back in the 60s! He actually had to buy it on Time. (If you're younger than me, that's something akin to a credit card purchase). I even have the original paperwork for this transaction. He bought the machine with a cabinet and it also came with a box of snazzy accessories that I'd somehow misplaced. Recently, I found the missing box and was so excited to pull out the various attachments. A couple were pretty crazy looking and, although I knew their purpose, I had absolutely NO idea how in the world to use them. Fortunately, the manual was handy and, upon turning to page 77, voila! There were the instructions.
Could you imagine the result if I just looked at this weird contraption and tried to figure out what on earth to do with it and its parts? Without the guide book, the effort would probably be a lost cause, ending with me being frustrated, discouraged, and possibly angry when my project didn't turn out as expected.
Yet, isn't that the way we sometimes try to live our Christian lives? We accept Jesus as Lord and Savior. We're grateful for His sacrifice because a way has been made for us to come back to the Father and anticipate eternity in heaven with God. But when it comes to day-to-day living, we take a look at the confusion, disorder, and senseless circumstances around us and try to figure them out on our own. We forget there's an instruction book in the box of life—the Bible. And, unlike my sewing machine manual, we even have an Interpreter—the Holy Spirit. So why do so many of us attempt life in our own power and wisdom?
It's time to stop this independent, self-reliant living. That is not the life to which we have been called. It's time to read the manual. Pray through it as you seek to find out how the One who created you wants you to live. God has given you 66 books in which He reveals His heart, love, and direction for you and promises He will be found if you seek Him
And you will seek Me and find Me, when you search for Me with all your heart.
Jeremiah 29:13
Praise Him for not leaving us on our own in this life!