The time is almost here.
Ladies are working hard.
Excitement is building.
Soon voting will open for the 6th Annual Homeschool Blog Awards!
YAY!!!
In the meantime, we want to show our appreciation to some of the great sponsors joining us this year.  They make these awards even more special with their gifts and commitment to homeschool blogging. 
Circle C Adventures
 
Andrea "Andi" Carter never tries to get into trouble, but somehow it always manages to find her. Living on the Circle C ranch near Fresno, California, in the 1880s–the heyday of the Old West–provides Andi with more than her fair share of adventures. Whether nearly trampling her schoolmaster on her palomino horse, Taffy, or outwitting an escaped convict, Andi's life is never boring. Her hair-raising escapades always end up teaching her valuable lessons about life, friends, and family.
 Circle C Beginnings
Children ages 6-8 can join six-year-old Andi, her friend Riley, and Coco, Andi's hand-me-down pony, for a whole new series of adventures on the Circle C ranch in 1874. A baby Taffy will join the ranch as well! These are completely new stories, with fun, black-and-white illustrations and easy-to-read text, for kids who are ready for first chapter books.
Visit Circle C Adventures for more information about these incredible books.
Nature Explorers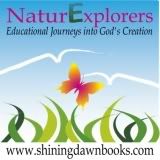 Nature-based unit studies that will help draw you closer to our Lord and Creator through learning more about His amazing creation.  The beauty of each unit is its adaptability.  You can simply take one nature walk and put the book down, or you can take nature walks again and again focusing on the same theme and not run out of new ideas for a very long time.  If desired, the nature theme can be used as a full-fledged, science-based unit study.  Besides math and phonics, you will find ideas for virtually every other subject.  Some of the units even include a hands-on math idea or two!
Within each unit you will find:
Inspiration for the parent or teacher and inspirational literature suggestions for the children
Background information concerning the main focus of the nature topic
Follow-up hands-on activity ideas
Writing and research ideas that bring in several subject areas
References for Bible study, artist study, composer study and poetry tie-ins
Child-friendly internet links and book lists for further study
Ideas for adapting the material for younger and older children, as well as ideas for groups of children
Notebooking pages
On The Nature Explorers website, you'll find a complete listing of their products along with nature study ideas.  It's a great resource for any homeschooling parent wanting to add more science into their homescool day.
Tiny Planets
Tiny Planets provides award-winning educational entertainment set in space exploration and discovery, inspiring creativity and critical thinking in youth ages 4 to 12.
Tiny Planets features the cosmic adventures of Bing and Bong, two whimsical aliens who travel the Universe of Tiny Planets together on their gadget-loaded plush sofa. With Bing and Bong, children are encouraged to think for themselves, assume social responsibility, take care of our planet and learn about the mysteries of space.
Family fun and safe for everyone!
From award-winning TV programming to brain games to lesson plans to community fun, Tiny Planetsoffers an engaging experience for everyone in the family. And, not only are the Tiny Planets sites infinite fun, they're safe and easy to use.   Visit Tiny Planets for great family fun while learning all about this planet we call home!
Please take a few minutes to visit these amazing sponsors.  Help us show them our appreciation for their incredible support.
WE LOVE OUR SPONSORS (This is a list of our current 2010 prize awarders! Please visit them as a thank-you for their generous participation!)