Hi!  I'm Alicia.  I blog at Confessions of a Snowflake where I hope to encourage other women by keepin' it real and sharing my life, both the good days and the flaky ones.  I'm honored to be a part of The Homeschool Post and I'm excited to write about one of my favorite subjects:  homeschooling.  As such, I thought I'd share a little about our homeschooling journey…
"It almost makes me want to consider homeschooling," I told my husband late one evening. 
We were trying to decide what to do about school.  Our son, who was eight years old at the time, attended a private Christian school that was moving to a new location the following school year, adding 10 mins to our drive time.  At a time, when gas prices were continuing to rise, the 35 minute drive seemed impossible.  Because we live in a rural area, our choices for private schools are limited and public school was never an option to us. I was tired and felt like I was running out of options.
As we discussed the situation that evening, I began to consider the formerly unthinkable.  There were many more late night talks and serious prayers for God's direction.  But after our first homeschooling conference, we were convinced this was God's plan for  our family and more specifically for our son's life.  We didn't fully understand it.  But we decided to trust.
In reality, though, I shouldn't have been surprised.  It wasn't the first time I had had to trust God with a major change of plans.  I had put my faith in God at the age of seven and learned to trust Him through a difficult childhood.  But the real challenges of faith did not come until I was older and making decisions that would affect the rest of my life. 
As the daughter of divorced parents, I didn't want anything to do with marriage and motherhood.  Instead I had plans of going to college, getting my degree and moving to a big city to pursue a career.  Meeting Gerald during my first month away at college changed all that.  Three months later we were engaged and six months after that we were married.  People tried to convince me not to get married so young.  But I was sure this was God's plan.  I didn't fully understand it.  But I decided to trust.
After we married, Gerald and I thought we would wait until after I finished my degree to have children.  Again God showed us that was not his plan.  Within three years of marriage, we were the proud parents of a bustling busy baby boy.    We didn't know anything about being parents.  But we knew this great big God who did.  So we decided to entrust our son to Him.
Although, I had not thought much about marriage and motherhood, I did know I did not want an only child.  I wanted our son to have brothers and sisters.  I also didn't like the stereotypical bratty spoiled only child.  But after a difficult delivery that almost resulted in my death, my husband did not want to talk about any more children. 
At first I was heartbroken.  Then I did the only thing I knew to do:  pray.  It wasn't easy.  I thought it was my life and I should have a say.  Now 13 years later, I'm at peace with that decision.  God has shown me that He has a plan for my son's life and I have to leave it in His hands.  I don't understand it.  But I'm learning that trusting God is always better than trusting my own judgment.
I had the same concerns about homeschooling.  I didn't understand why God would ask us to homeschool an only child who was a social butterfly.  Didn't he need to be around other children?  Didn't he need the social interaction?
But as we enter our 5th year of homeschooling, I see the wisdom in God's plan.  I see a budding young man who is bright, vivacious and loves to learn.  He plays the piano and the trumpet and loves to sing.  He studies history and writes in his spare time.  Even though he can never sit still, he loves a good book almost as much as he loves his video games.  Plus he has more friends than he ever did when he was in private school.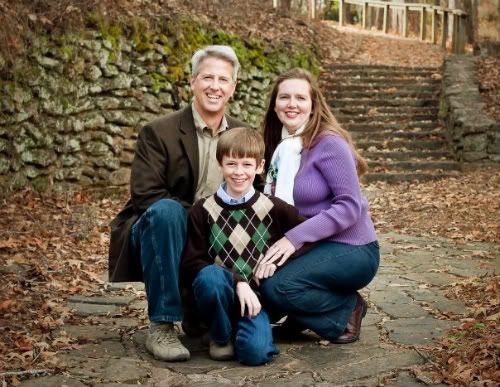 I also see a family that has grown together, not only in the knowledge of this world, but also in the things of God.   We love to play together, learn together and read together.  Most nights you can find us studying history or discussing some concept my son and I had a hard time understanding that day.  We also share a mutual geeky love for Star Trek.
Homeschooling isn't always easy.  If I am completely honest, there are days when I want to pull out my hair.  There are times when I lose my temper.  There are times when we're both in tears.  But through homeschooling, we've learned the art of grace, the art of loving, and most definitely, the art of trusting God.
What started out as an exercise in trusting God has become a way of life.  I tell people that I am an accountant by trade and a homeschooling mom by passion.  I'm not only passionate about giving my son a quality education; I'm passionate about helping other moms do the same.  I try to do this by serving as the Assistant Director of my local homeschool group and as a Classical Conversations Challenge B Director/Tutor.  Both roles keep me busy.  But I wouldn't trade it for the world!
Thanks for letting me share my story!  I look forward to getting to know you through The Homeschool Post!
Just keepin' it real,