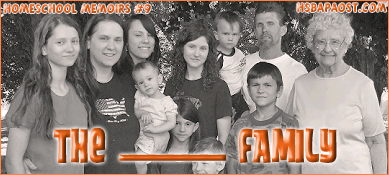 Each family has something special about them… we're all unique in that way! LOL! I know my family is like no one you'll ever meet and I'm sure you all can say the same thing! Sometimes God has a sense of humour when creating families, but he has a plan in everything. Isn't comforting to know we were designed with purpose?
THEME
This week's theme is about your family. Don't worry. I'm not going to make you write a long essay about all the great things your family does. Just something little diddy that I know everyone will have fun with!
Watch the youtube video below and then take this song and add your own words, about your family. The end of the first three lines should rhyme. Can't wait to see what you come up with!
Lryics to "A Homeschool Family"
Some people say were goofy
Mysterious and spooky
Our neighbors think were kooky
A homeschool family
We drive a white Conversion
We learn about the Persians
Our six year olds a surgeon
A homeschool family.
We learn about Creation
And classis education
Were sponsoring a Haitian
A homeschool family.
(Meek)
(Unique)
(Geek)
The parents are the tutors.
We build our own computers.
We never go to Hooters
A homeschol family.
Have recess in the foyer
And then we read Tom Sawyer
Our nine year olds a lawyer,
A homeschool family.
We never leave our dwelling.
Our children are excelling.
They're champions at spelling
A homeschool family.
Add your Memoirs link:

Put a * next to your name if you're going to visit 10 of the others this week!
MY THEME
They're happy and they're homey
No one can call them phoney
They're all together looney
The Dixon Family
Their house is on a farm
No need for alarm
We really cause no harm
The Dixon Family
(Neat)
(Sweet)
(Petite)
So get on your internet
You can visit them yet
We hope you won't get upset
The Dixon Family
I had a lot of fun writing that…. to understand the last verse you'll have to come visit me! LOL Sorry this is late!
Blessings!