Each week through May we will be highlighting the Top Ten Bloggers from each category of The 2013 Homeschool Blog Awards. We understand the hard work that is involved in running a successful blog. Kudos to all who were nominated, all who made the top ten and to our winners!
This week we are highlighting the 2013 Best Homemaking and Recipes Blogs!
Best Homemaking and Recipes Blog
We were looking for blogs with content regarding homemaking, housekeeping, tips, ideas for making your life easier, information about raising multiple kids, or recipes that you enjoy trying. These bloggers needed to be homeschoolers, but their blogs did not need to be exclusively about homeschooling.
Winner 2013 Best Homemaking and Recipes Blog
Home to 4 Kiddos was our big winner this year! Lisa's blog is full of fun homeschooling posts, reviews, homemaking tips and recipes. She has a couple of regular posts "Field Trip Friday" and "Try a New Recipe Tuesday". Looking for some encouragement? This blog has it.
Top Ten 2013 Best Homemaking and Recipes Blogs
In no particular order: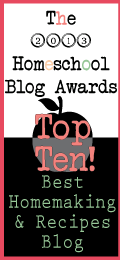 ***See the Light Christmas special for HOMESCHOOL POST readers: 25% off BIBLE STORIES 5 DVD Boxed set + FREE SHIPPING. Over 17 hours of content including 15 stories and 15 complete step-by-step art lessons. Code to use: HSP http://www.seethelightshine.com/store/bible-stories.html