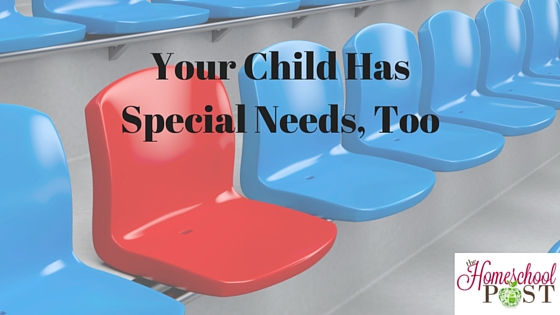 "My kids don't go to school?"
[silence, mild contemplation]
"Do you homeschool them or something?"
"Well, we don't use that term….but yeah."
"Why?"
"My kids have special needs."
"Oh." [apologetically]
[end of conversation]
Now, in general I don't short-circuit the homeschooling conversation like that. I actually very much prefer to go on the offensive until the inquiring party gets defensive and tries to break free!
But I certainly always have that retort in reserve and you are welcome to use my special needs silencer to ward off interrogations yourself.
It's all aboveboard because as far as I'm concerned, and with all due respect, ALL CHILDREN have special needs.
Yes, many can claim medical and/or psychological distinction (ADHD, dyslexia, Apsergers, autism, etc.) but I submit that all other kids also may especially NEED:
To sleep more
To be outside more, if not all day
To spend copious time in solitude
To accelerate their education
To be constantly moving (i.e. can't sit all day long!)
To read a ton
To be around their family a lot
To have vast creative space for art/music/dance
Etc.
I'm always talking to parents who are upset and frustrated that their kids can't sit still in school, can't focus on the assigned tasks, and are being strongly advised to medicate…
The first thing I do is try to flip their moods around.
I say that the fact that their child has energy and is self-directed is a HUGE POSITIVE for their long-term development. I point out that some of the most successful people ever to walk the earth have shared those same gifts.
And I assert that if their child was doing well in school. If they could competently sit for hours on end, blindly take orders and jump through hoops….if they were unstirred by any internal passions then they would have a MUCH BIGGER PROBLEM on their hands.
The fact is, all children, including yours, have prodigious latent talent, gifts, and energy bottled up inside them.
And if they (and you) aren't aware of them…
Well they aren't in an environment or on a plan to unlock their full-potential.
If you don't take steps, SOON, to drastically change the situation….there will be unpleasant long-term consequences, painful side effects all-around, i.e. for them AND you.
Jim Rohn has famously said, "Potential underutilized leads to pain."
I know I can attest to that personally and I bet you can, too.