Each week, until April, we will be highlighting the Top Ten Bloggers from each category of The 2013 Homeschool Blog Awards. We understand the hard work that is involved in running a successful blog. Kudos to all who were nominated, all who made the top ten and to our winners!
This week we are highlighting the 2013 Best Nitty Gritty Homeschool Blogs!
Best Nitty Gritty Homeschool Blog
These homeschool bloggers are brutally honest and open about the realities of homeschooling. These are the moms that make you feel better and let you know that it is OK that we aren't perfect. What would we do without them?
Winner 2013 Best Nitty Gritty Homeschool Blog
Confessions of a Homeschooler was our big winner this year! Erica's blog is full of great reviews, resources, homeschooling advice, encouragement, and even meal planning ideas!
Top Ten 2013 Best Nitty Gritty Homeschool Blogs
In no particular order: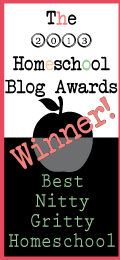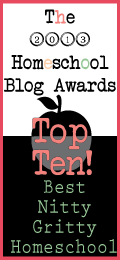 ***ART CLASS curriculum: 10% off + 10% off on all other products in order + FREE SHIPPING in U.S. Code : HSP Offer expires August 31st. www.seethelightshine.com***