I still remember my typing class in the 7th grade.  Electric typewriters.  Do they still make those?  They were old when I used them, but they got the job done.  The important thing was I learned touch typing skills that I've used my whole life.  Now that so much in life and work revolves around using keyboards, those skills are even more important than they used to be.  What about typing for kids?  When and how do you introduce typing lessons in your homeschool?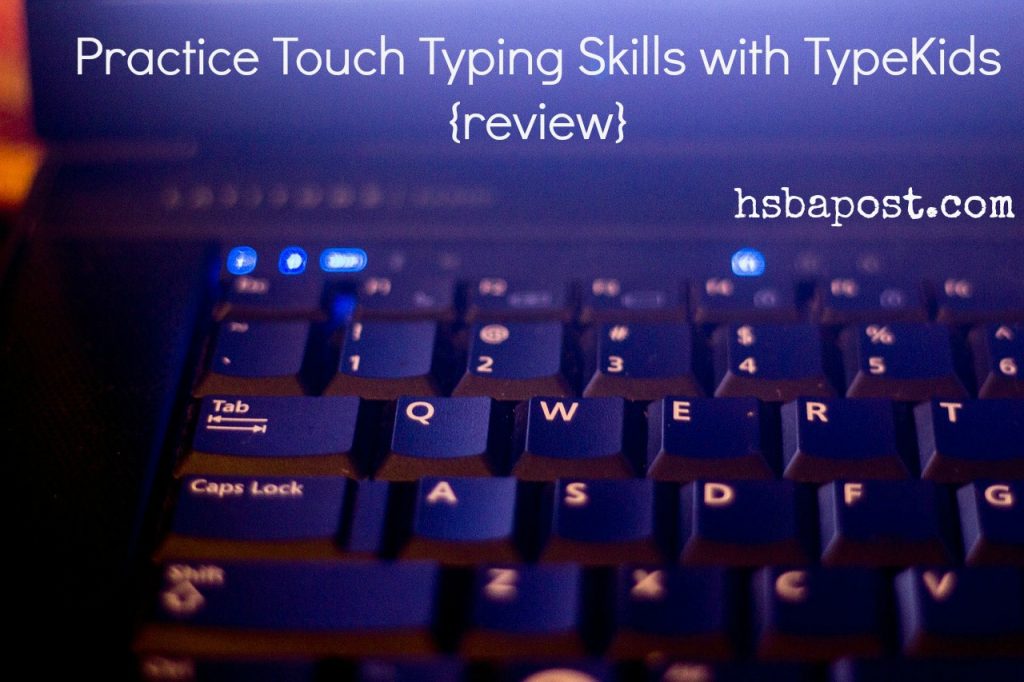 TypeKids is an online typing course for kids.  It was created to teach touch typing skills in a fun way with incentives for making progress in the form of games.  Kids type along with Captain Forty, a friendly pirate, as they collect gold coin treasures.  Gold coins can unlock games.  Accuracy counts and emphasis is put on proper hand placement and typing without looking at the keyboard.  Students improve both speed and accuracy in the lessons and games.
How it Works
My daughter (12) has been practicing her typing skills.  She wants to improve her speed because she's a writer and she knows that speed and accuracy will make the writing process much easier.  She is motivated enough to practice without the additional incentive of games, but I know from personal experience that typing practice can be boring.  TypeKids helps to prevent that boredom with built-in incentives.
Lessons are presented in slideshow format, beginning with a chart showing the proper placement of your hands on the keyboard and why it is important.  An instructor's voice describes the proper placement as well.  Standard lessons are presented for the home row, numbers, punctuation, and more for the QWERTY keyboard.
The lessons are available for a one time payment of $89.95.  Students have up to one year to complete the typing course, but if this is not long enough they can request a free extension of one more year.   Using the lessons several times a week, it won't take my daughter a full year to finish them.  Each lesson takes about 10-15 minutes.
I think the target age range is 8-12 years old, though older or younger students could certainly use it according to their ability.  My 7 year old daughter often looked over her sister's shoulder as she played the incentive games so it piqued her interest as well.
The Bottom Line
As a homeschool mom, I appreciate the fact that I can get progress reports on the site or even emailed to me.  Since I keep records for our homeschooling, this helps with documentation.  This feature, as well as the charts and emphasis on proper hand placement and incremental lessons, takes TypeKids above other online typing games.  It is real instruction in touch typing.
My daughter likes the sense of accomplishment as she progresses through the lessons, which is also different than typing games that don't save progress.  Typing is one of those skills where practice makes perfect (or improved) so TypeKids gives her a good chance to get that practice.
If you're looking for a touch typing course for kids, head over to TypeKids and check it out.  You can start a free trial today before committing to the year-long subscription so there is no risk.
Are you teaching your kids basic typing skills?
Disclaimer: I received free access to TypeKids for the purpose of review.  I was not required to give a positive review.  All opinions expressed are my own.
***See the Light Christmas special for HOMESCHOOL POST readers: 25% off BIBLE STORIES 5 DVD Boxed set + FREE SHIPPING. Over 17 hours of content including 15 stories and 15 complete step-by-step art lessons. Code to use: HSP http://www.seethelightshine.com/store/bible-stories.html