My younger girls love animals, so we take every opportunity we can to do animal unit studies. I recently saw the Wildlife Adventure unit studies from Adventure Homeschool. These are downloadable unit studies that can be used to involve the whole family in learning. All of the studies can be used over time to create a nice notebook that features all the different animals. The girls and I recently had the opportunity to review the Sea Turtles Unit Study. The study is a download that can be used by all family members. It includes Bible, spelling, history, vocabulary, and science.
About the Study
The Sea Turtle Unit Study is sixty-five pages long. I chose to read the study from my computer and only print the necessary pages as we came to them. I did the study with my younger girls- 5th and 6th grade.
The study itself isn't divided into days. There is a suggested daily schedule at the beginning that will allow you to complete the unit in three days, covering all of the pages in the study and allowing days four and five for completing any activities or planning field trips.
The study has a variety of activities for students of varying ages.
Bible and handwriting work which allows students to copy verses (There are manuscript or cursive options.)
Reading about the sea turtles
A compare/contrast chart
A grammar lesson, complete with a website where students can practice
Internet links to learn about each type of sea turtle, as well as materials to make a lapbook page with mini books of each turtle. Because we weren't doing this study as part of the complete Wildlife Adventures, we did the page on cardstock and punched holes to put it in our science notebooks.
Vocabulary words to be matched to a definition
A creative writing assignment with choices for younger students or older
Spelling words to copy and write from memory, as well as a word search with the words
A phonics less with the "ur" sound for younger kids
Information about the sea turtle life cycle and scientific classification as well as a notebooking page that allows students to record this information to keep
Geography study that involves mapping where sea turtles live and learning some geography terms
A study on the state of Mississippi
A historical profile of Ulysses S. Grant
Links to sea turtle videos and coloring sheets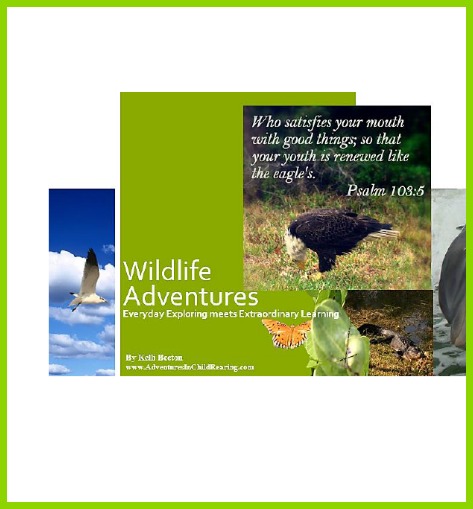 Our Experience and Thoughts
The girls and I worked through this study as our science curriculum. Although there are definitely other academic disciplines covered, we were most interested in learning about sea turtles. I read the included information aloud and let the girls take turns following the internet links included so that we could read those together and learn more. The girls enjoyed learning about the types of sea turtles in detail and finding out more interesting facts about sea turtles.
There were a few things I really enjoyed about this unit study and a few things that didn't work as well for us. I really love the hands-on activities in the study. My girls respond well to those, and we enjoy them. I also like the balance of information that is directly written in the text and links to look up information online. I also appreciated that, although there was a suggested schedule, the study is flexible enough to be used however it fits the family best.
There were two things that stood out to me as negatives. Although the information about the study says it can be used with the whole family, I would definitely say students as old as high school would feel most of the content and activities "too young." I have high schoolers, and I don't think this would be as good a fit for them. Because some of the activities have an easier version and a harder version- such as the cursive or manuscript writing choice or the creative writing assignment- I think the study could effectively be used through upper elementary or early middle school age. It was still an okay fit for my sixth grader who enjoys hands-on activities. The other thing that struck me was that, although this is considered a unit study, there are sections that seem to aim to teach something, but it doesn't go along with the study at all. The grammar study uses the words "swim," "swam," and "swum," but otherwise it doesn't really fit. And the studies of Mississippi and Ulysses Grant, while educational, don't seem to fit the topic of sea turtles.
Despite these negatives, I enjoy the hands-on approach to learning. And my girls have really enjoyed getting a closer look at sea turtles with some of the activities we've done and information that we read. The lapbooking activity was one of our favorites.
You can learn more about the Wildlife Adventures Unit Studies here. And you can find the Sea Turtles Unit Study here.
Disclosure: I received a free copy of this unit study in exchange for an honest review. All opinions are entirely my own, and I was not compensated in any other way.