Guest post by Wren from finchnwren.com.
Have you ever considered that gardening is a wondrous way to introduce your children to the miracles of God's creation—and family fun?
We've been a gardening family for 4 years, when a friend gifted us with a small raised garden bed and soil. We purchased zucchini and yellow squash seeds, and were astonished at the harvest! Since then, our garden has expanded every year, with great rewards. And involving your kids in gardening is amazing on so many levels. Here are 5 of my favorite ways…and don't forget, you can create unit studies out of all of these!
1. Choosing Seeds
Taking your children to the garden center to choose the season's seeds is the perfect way to start. Seeing the seeds and the potential through their eyes can help us step way out of our comfort zones.
This is a moment where your vision and dreams for your summer garden can run wild. This year, we picked old favorites and brand new ones, like the mouthwatering mini-watermelon seeds! Of course, you've got to keep in mind the length of your growing season, but if you watch the planting dates for your region and stick to that, you can still reap a great and varied harvest.
We're starting most of our garden from seed this year, and we're planting beets, basil, zucchini; summer squash, sugar snap peas, and carrots; garlic, watermelon, cucumbers. We'll be buying tomatoes to put in later once the freeze warnings are over.
2. Creating a Garden Plan
This year, we're trying square foot gardening. We have 3 raised beds, plus two large containers to work with. I discovered that with square foot gardening, I can plant a LOT, simply by dividing our beds into 12" squares. For example, did you know that you can plant 16 radish plants in one square foot? Or 16 carrots? Or, 8 sugar snap pea plants? My son made a planting guide for our large raised bed in Paint. Great way to combine art and gardening!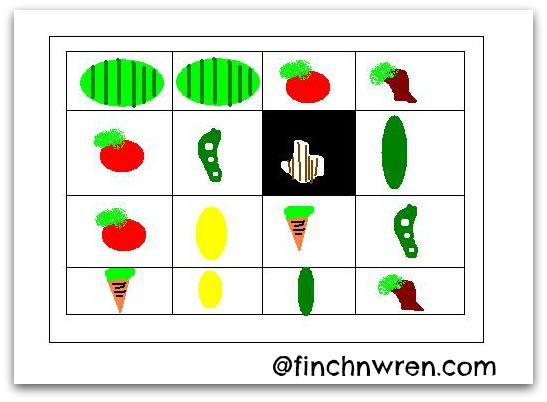 Your raised bed can yield so much more than you've ever imagined, if square foot gardening is new to you. You just need a bed plus wooden slats to place across it in grids, to segment all your square foot spaces. It is fun AND exciting!
3. Birds & Bees
There are some insects whose presence is integral to a garden's success. And others which might not be as necessary, but will still add value and health. Bees, of course, are vital for pollination. I have several beds which run along our fences that are planted with bee-friendly plants. What's even better is that they bloom over the course of the summer, so that the bees always have flowers to visit.
Russian sage is super-low maintenance, and bees swarm ours every summer. Our peonies don't last quite as long, but their sticky nectar and heavy fragrance draw the bees beautifully. Last summer, I needed a little extra on one side of our garden, so I planted catmint. It's very pleasing to the little pollinators as well. You can also try bee balm, lavender, basil, mint….just Google "plants bees love" and see what will work in your area!
One of our summer joys is watching the hummingbirds in our backyard. Did you know that hummingbirds also do some pollination? I was pretty surprised at this, but I know they love the Russian sage and find our tomato cages a wonderful perch. You can find inexpensive hummingbird feeders at your local discount stores, and make your own nectar at home. (Just heat 1 part granulated sugar with 4 parts water over medium heat til sugar dissolves. Let cool, then pour into feeder.)
4. Creating and Cooking
We know that kids who grow their own vegetables are much more likely to eat vegetables than those who don't. I don't know if your children are veggie-lovers or not, but how cool would it be to create and cook recipes with your kiddos, right out of your garden? We've made zucchini pizza rounds, zucchini-tomato gratin, zucchini breads and cakes, squash casserole, stir-fried beef with sugar snap peas…the list is endless! And that's not including just eating veggies out of hand. My son even created a pasta and squash recipe several years ago that we still eat, which you can find here:  "Jackson's Amazing Fettucine with Sauteed Squash and Parmesan"
5. Sprouting
This is more of an indoor activity than an outdoor, but our family loves growing sprouts. This time, not to plant…but just to eat! Sprouts are a wonderful snack, and make a lively addition to sandwiches and salads as well. We have a kitchen seed sprouter, but you can sprout with just a mason jar! My son loves these and I love the fabulous antioxidants and fiber they provide. We're currently sprouting alfalfa, radish and clover.
There's so much to love about backyard gardening. You can do it even if you have a teeny tiny space. And involving your family in it…priceless!
How do you involve your family in your gardening? This summer, Kemi from Homemaking Organized http://www.homemakingorganized.com/ and I are hosting a garden linky! Come and link up at Garden Party!
Wren blogs with her sister Finch at finchnwren.com. She and her husband met on the mission field and still love hearing about God's work around the world. Wren has homeschooled their only son since the beginning. They love family fun, the beach and great comic book heroes.