Not that long ago, I was asked to describe a "typical day in your homeschool". I remember staring at that line on the questionnaire for many minutes wondering how much space I would be allowed to attempt that. It's hard enough to describe our "typical" for a 5-day series of posts (which I've done, here and here), never mind condensing it to a paragraph. Now, here I am attempting to describe "typical" again – a few paragraphs that give you an idea of what a typical week is like. It's hard to do, because every day is different.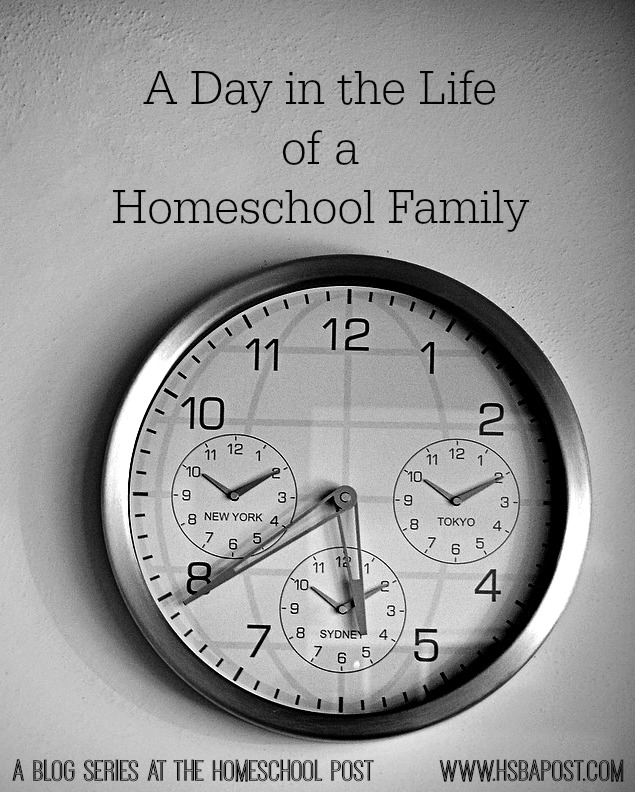 Every day is different, but there is one thing that is pretty constant, and that is how I start each day.
Our typical days are definitely not all sunshine and lollipops. Typical days might include oversleeping, procrastinating, complaining, and bad attitudes. They might also include last minute changes, thrown-together meals, the occasional argument, and at least one of us scrambling to get caught up. That's the real world we live in. But that's exactly why the start of my day is so important. I made a commitment a long time ago to start each day with my own quiet time spent reading the Scripture, and I can tell you that making my morning coffee break with God a top priority has meant our typical days go much better than they otherwise would! Without that start to my day, my own attitudes and failings would take over and I wouldn't be able to cope with the challenges that come from anyone or anything else!
Monday is usually a day to stay home and set the tone for the week. Generally we don't need to go out during the day, so getting a decent start on the day and hitting every subject is the goal. On the flip side of that is the fact that the kids are almost always up late on Sunday night, so they struggle to get out of bed on time.
Tuesday is the hardest day to get anything done at home, because music lessons, gym class, choir rehearsal, and Civil Air Patrol all land on Tuesday. I figured out a couple years ago that it worked out best to do almost all of the running around on one day of the week and just accept the fact that we likely weren't going to get math done that day. This way we only "lose" one day each week to outside activities. I also try to do as many of the errands as possible, so I grab groceries while the kids are at gym and we stop at the library/bank/pharmacy/whatever on the way home. And anything I miss on that trip I can try to do on the evening trip for choir and CAP. It's an exhausting day, but fairly efficient. Except for meals. Tuesday meals are always rushed, and are most often leftovers or what I call "shoot-yer-own dinners".
Wednesday and Thursday are most often stay at home days for me and the middle school daughter, and I try to plan on working with her on science and social studies. The high school son has a part-time job, and works these two days. So the neat thing is that his flexible homeschool schedule allows him to work during the day and put in at least 16 hours on only two days. The not-so-neat thing is that it leaves him only 2-1/2 days to get schoolwork done, and he is not really a fan of catching up in evenings or on weekends.
Friday … if all goes well, we're all home on Friday again, and we can try to get things done that we should have done earlier in the week. Yeah. That's the plan, but it doesn't always work out that way.
We don't use a set schedule for what time of day to do certain subjects, or even which days. I do set some expectations, such as some math and reading every day. There are deadlines for assignments, but they are pretty flexible when things come up. We've settled into a few routines that help us keep some rhythm and pattern to our days. I have regular reminders that pop up on my phone to help ensure that we get started on time, keep our lunch break from lasting until dinnertime, and leave the house on time when we do need to go out. Some days those safeguards work and some days they get ignored.
Few days include breakfast together, but every day starts with coffee and high hopes for a productive day. We no longer have family read-alouds or subjects that we study as a group, but there are still a couple of subjects that I do one-on-one with each kid. We do fewer field trips and co-ops, but we do keep our days flexible enough that we can take advantage of the most interesting and valuable learning experiences when they come along. Our typical homeschool day now is so different from what it was like when we were just starting this journey, or even from a few short years ago when there were four students instead of just two. Sometimes I miss the days of read-alouds while snuggled on the sofa, and three or four kids all working on a unit study together, but I am finding that I enjoy our current normal just as much.
If you've been homeschooling for very long, you learn that what worked last year might not work this year or next. Some things change, and some things stay the same. Stay flexible, and enjoy each stage on the homeschooling journey as it happens. And whatever your typical day looks like, I encourage you to prepare your own heart for it by drawing strength from God's Word.
So teach us to number our days that we may get a heart of wisdom. Satisfy us in the morning with your steadfast love, that we may rejoice and be glad all our days. ~Psalm 90