I really like the month of January. I confess that I don't love it- because winter really isn't my thing. But I like it. I love the idea of a new year, a clean slate, a new opportunity. And I really like to use that time to readjust things in our homeschool. When you follow a (sort of) traditional school schedule, January is a great time to make changes when they're needed because it's the beginning of a new semester, the second half of the school year.
As January rolls around, I like to use this time to take a look at our homeschool schedule. What's working? What isn't working? What do I need to get rid of? What do I need to tweak? Sometimes I take a look and realized things are running smoothly and maybe I don't need to upset a good thing. Other times, it's easy to see that I need to make some changes. What are some signs that your homeschool schedule isn't working and you may need to change things? Here are four that I look for.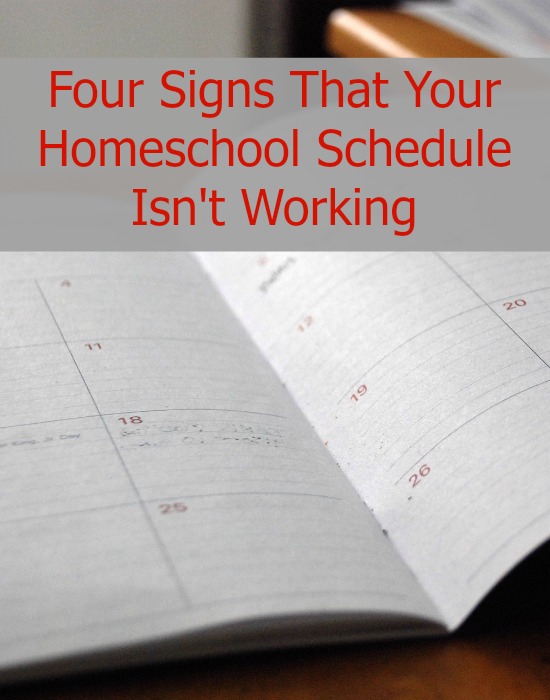 Kids are frustrated.
This is the first and biggest sign. Are the kids constantly frustrated with their school work in a particular area? Yes, kids may complain about school work no matter how well things are working. But, if there's a constant frustration level, maybe it's because something really does need to change. If my kids are really unhappy about something in our schedule, I take a closer look. Maybe I'm scheduling a subject too often or not often enough. Maybe I haven't been consistent with that subject in our schedule. Maybe it's something we need to schedule more time to complete. If the kids are frustrated, that's a sign that things may need to change.
I'm frustrated.
There are times throughout our homeschooling that I begin to feel tired and frustrated and burned out. The cause of this is often a problem with our schedule. Are we doing too much? Are we too busy? Do I need to schedule more things that the kids do independently or change up the order in which I'm working on different subjects with different kids? If I'm starting to feel constant frustration, I take a close look at the schedule.
A child is struggling with a school subject.
When a child is beginning to struggle with a particular school subject, I always check to see if our schedule is the culprit. Sometimes I realize that we've been so busy that we haven't spent much time on that subject. Sometimes I realize that I might need more one on one time with that child. Perhaps I need to schedule the subject for a different time in the day when distractions are fewer. A continuing problem with a particular subject can be a sure sign that I need to tweak the schedule.
We aren't having any fun.
Okay, all school can't be fun. It just can't. But one of the joys of homeschooling for me is that we can have fun together. And if we aren't having any fun, maybe the problem lies in the schedule. Maybe we have too many things scheduled. Maybe I need to leave some space for fun, time that we can just go to the park or take a long walk on a beautiful day. If we aren't having any time for this, maybe we need an adjustment in our schedule.
These are the warning signs. If any of them are present, I'm reevaluating our schedule. The schedule isn't always the problem. But, often, it is. And the beauty of homeschooling is that I can then change the schedule to work for us.