It's that time of year again! The summer season is upon us and, for many homeschoolers, that means summer planning time! I'll be taking the summer to plan our upcoming homeschool year (our seventh!). So I thought I'd share some of the tips for planning your homeschool year that have worked for us.
And before you give me any credit for these, just remember: A lot of these were from trial and error. So I tried something, it didn't work, and now I know what to do instead. Learn from my mistakes!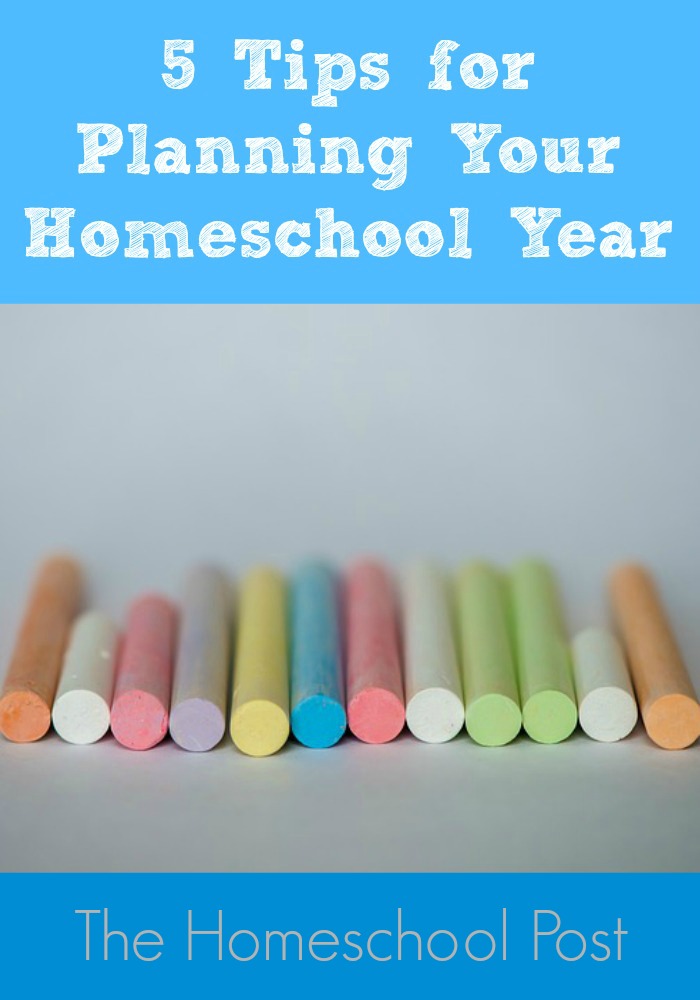 5 Tips for Planning Your Homeschool Year
1. Look back at last year.
Have you completed your year-end homeschool assessment? Do that before you get started on next year. Take a look at what worked, what failed, and what you didn't have a chance to complete. Use these ideas as a starting point for next year's lessons.
2. Outline what you want your kids to learn.
Now it's time to make a list of all the things you feel your kids should learn next year. Start with your state's required objectives (if you have any) and then add on from there. You might base this on their grade level, age range, or degree of responsibility.
3. Ask your kids what they want to learn.
Next, have a family meeting and have your kids write down all the things they want to learn for themselves. Their answers might surprise you! And while you probably won't be able to get to everything they ask for, you can try to weave in at least one of their desired topics a week.
4. Shop for curriculum.
Once you have your list of things to learn, it's time for the fun part: curriculum shopping! Request a free catalog from every homeschooling curriculum provider you can think of. Then sit down with a highlighter and select everything that matches your educational goals. Set a firm budget, then go back and make your final selections.
5. Plan for the first six weeks only.
When you receive your curriculum or when you finish assembling your resources, get out your lesson planner and plan the first six weeks of class ONLY. It can be tempting to plan the entire year, but that has never worked for our family. Generally, we end up tweaking the curriculum and our schedule within the first one or two months, so I plan the first six weeks and then go from there.
Do you have any tips for planning a homeschool year? Share them in the comments!