There are many non-obvious benefits to homeschooling.
In this post I want to talk about the fact that, done properly, homeschooling will actually strengthen marriages.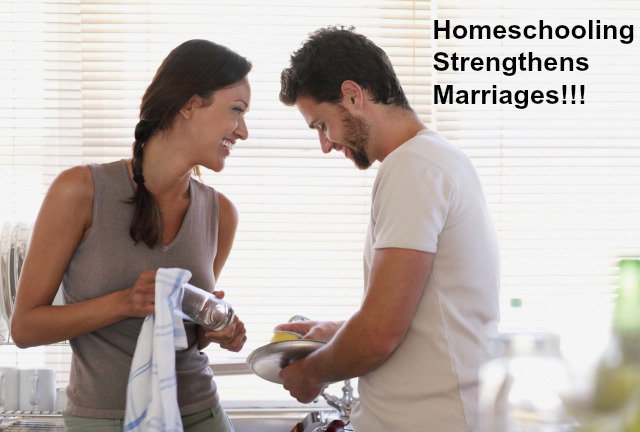 Nothing pains me more than to see homeschoolers make classic mistakes. It can be so hard just to muster the courage to remove one's children from *the system* in the first place….that I hate to see failure on much easier decisions and actions.
Just off the top of my head I would say that some of the classic mistakes include: recreating "school at home", trying to purchase educational results, submitting to Minecraft, television, and cell phone mania, adopting the ridiculously low standards of government schools, trying to constantly make learning "fun"….and one more – having one parent do ALL OF THE HOMESCHOOLING.
Recently I was on a "homeschool dad" forum and one after another admitted that their wives do "99% of the homeschooling". Some declared themselves the "principal" of their family's homeschool, whatever that means. My gut reaction to reading all this, for the umpteenth time, was pretty negative. Although my wife's was far more indignant! Her stance on the matter is very chauvinistic, "Hah….typical do-nothing men who think being in charge is work."
You see, she's employed by a large financial institution which is run by, well, the people she just described! And despite her lofty and vast responsibilities there, she still manages to play a very active role in the home education of our children. She does at least 50% of it despite 6 am commuter trains to catch and flying to so many countries that border control has trouble finding room for a new stamp on her passport!
There's just NO EXCUSE for a homeschooling parent to, well, do nothing.
The off-parent can research materials and ideas on the web, can assign books to the kids, can go over their work each day even if for only 10 minutes.
The off-parent can help plan out each week's assignments. They can do math. They can have important discussions with their kids. They can reinforce, rather than undermine(!), the daily rules and discipline of the household. They can email their kids interesting articles. My children, still only 8 and 10 years old, are emailing their mother all day long about their assignments and whatnot. All of this falls certainly under the heading of "homeschooling".
Sure, exercise is important but the father who thinks his job is merely to throw a ball to his kids or explain televised football penalties, well, they aren't doing anything more than a "school father".
Sometimes it's not totally the off-parent's fault either. Sometimes they aren't involved because the on-parent is territorial and all but discourages input or help. Think of the young mother who never lets or demands that Dad change a diaper….who then can never go away for a couple days because the baby (or Dad!) wouldn't survive on Dad's watch.
I'm old fashioned in many respects but am decidedly new-fashioned when it comes to the division of labor within a marriage. I feel strongly that both remunerative work and housework should be shared as much as possible. And the same goes for the homeschooling work!
After all, we are trying to raise polymaths, right? What kind of example is set for a son when Dad never does housework? How can a daughter ever learn to value math when her own mother avoids it like the plague?
It's really incumbent on the parent who's being squeezed out to insert and assert themselves more.
And it's incumbent on the single homeschooling parent to demand more cooperation from their spouse.
Why?
What's so wrong with having roles? What's wrong with playing to our strengths as parents?
Nothing super horrible anyway. Except that such a working chemistry wastes a huge opportunity and can even introduce risks to a family.
There was a widely-read article in the Wall Street Journal recently that recommended couples marry while they are young, immature, and still struggling rather than when they were older and established in life. An early marriage was likened to a "start-up" – teeming with energy and potential and a later marriage was likened to a stodgy combination of intractable corporate behemoths.
Here's the link again – Advice for a Happy Life by Charles Murray – take a moment to read it now. It's short and worthy of your attention.
I couldn't help but read that about "start-up marriages" without realizing that the very act of homeschooling is essentially a start-up.
A young family is a blank slate, a pile of clay,…it can be designed, dreamed, and sculpted into anything. Of course I'm talking about the kids, but also about Mom and Dad. Homeschooling presents a unique opportunity for a family to learn, work and grow together.
I realized that my wife and I, while having vastly different friends and hobbies, we at least have our kids in common. In addition to what we do directly with them, we've spent many, many nights up in bed talking about our children. We're planning, hoping, commiserating, worrying, and strategizing any number of things: from hiring teachers, altering curricula, shifting foci of attention, how to better discipline them, etc. It can be so intense that many, many times one of us has declared, "Okay, no more talking about the kids tonight."
Yeah of course we've had some legendary arguments: Spanish or French, punishments, how much academic work is enough, etc. and decision "spheres" certainly do take shape.
HOWEVER, most parents don't have this; they don't have this fodder to constantly talk about; as a couple, they don't have common goals (i.e. children) they are working on, together. Sure school parents may also spend a lot of time discussing their kids….EXCEPT they are powerless to really do anything about how their kids are being raised, educated, and not to mention socialized!
The thing with marital relationships is, they either move forward and get better…..or they tragically deteriorate.
And as I said at the top, in the middle, and just above….done properly, homeschooling will strengthen your marriage – it definitely has in my case.
Lastly, I'll explain the title of the post.
Mathematically speaking, when "labor" is "divided by 1″….it's not effectively a division. In that case it's more accurately a separation of labor and effectively a separation of people.